I'm often asked what my favorite picture is. The answer is that I can't single out any one, from many preferred images.
One of my most endearing shots was taken the day before Thanksgiving, 31 years ago. I was into my second season of oyster dredging on the Chesapeake Bay, aboard the sailing skipjack, Virginia W.
There were reports that the day before another workboat, Hilda Willing, had dredged its limit of 150 bushels near the mouth of the Choptank River. With oyster populations in steady decline, that was a rare occurrence.
So early that Wednesday morning, all the Tilghman Island skipjacks set out for the same spot. There was no wind, however an approaching cold front was forecast to sweep in. We had our sails up ready to work. A light breeze began to fill in, though we were still underpowered and moving at a slow pace, barely able to pull a single dredge.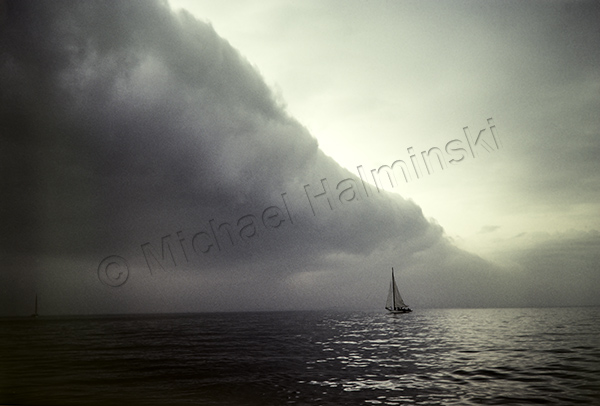 Skipjack and Cold Front-1982- prints available on request
As was typical of my working the middle deck, throwing the starboard dredge, I had my Nikonos rangefinder camera by my side. The massive clouds of the cold front began rolling in, getting closer. I looked over to see the Sigsbee, full sails up, waiting for wind. I took 6 shots, then put my camera away.
The front was an ominous sight as we prepared for more breeze. We tied 4 reefs in the main, deployed a second dredge and began catching a few oysters. Our speed increased, a gust of wind hit, and the boat heeled over, filling my right boot with sea water. There were some tongers  working nearby, and maneuvering was tight. Coming about for another lick, we had a near collision with one of them, our massive bow sprit crossing over his cabin top.
By that time it was blowing a gale, and impossible to control the boat safely. We dropped our sails, deciding to call it quits after bringing in 4 bushels and headed home for the Thanksgiving holiday.