Almost like it was yesterday, I can still see the white longhaul boats on the water of Pamlico Sound. The Pamlico is one of the largest estuaries in the United States, and the longhaulers look for massive schools of fish that inhabit those waters near Rodanthe every Summer.
Nowadays this method of fishing is not as prevalent as it once was, but in 1980, I went out with a crew from Avon. The owners of that haul seine fishing rig were brothers, Collins and Belton Gray. Known as "the Gray boys", they were dedicated, hard workers. You would not meet finer people anywhere. And they knew how to catch fish.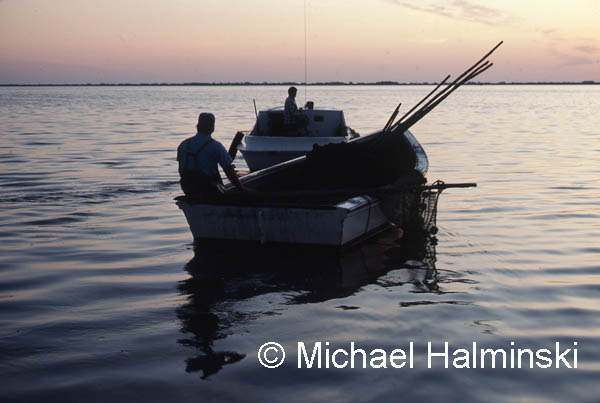 Dawn shines on Pamlico Sound as the Gray boys look for fish. Belton Gray operates the run boat as Charles Farrow sits in the net skiff.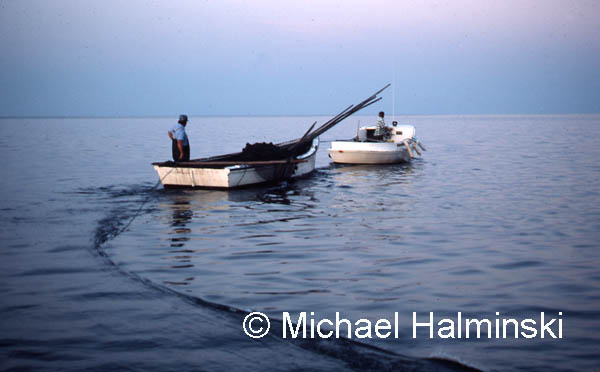 Charles tends the net, as it begins to go overboard into the water.
Collins Gray steers the run boat using a bridle adjustment tied to the end of the net, as Belton Gray Jr. assists. Meanwhile, more net goes out as the other run boat pulls the net skiff farther away.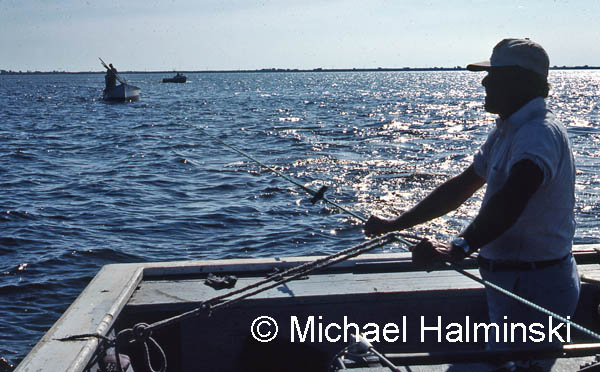 With a few thousand yards of net out, Collins watches as it is pulled in a big "U" shape along the shallow bottom. The "U" is then closed and tightened, encircling the fish.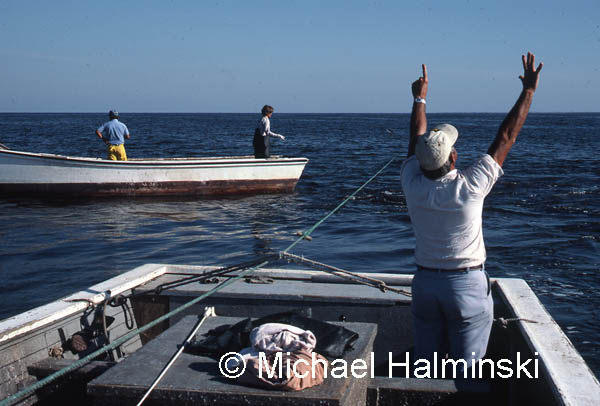 Collins signals that it's getting time to close the net, begin hauling it back into the skiff, and "bunting up",  putting all the fish in a neat little pocket, before bailing the catch into the boat.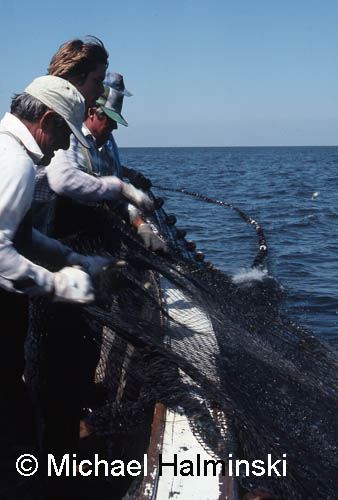 The crew hauls the net back in the skiff.
This had already been a long day and the hard work was just beginning. With most of the net back in the skiff, Belton (center) was ready to bunt up and bail fish. Belton Jr. handles the staff on the end of the net.
Stay tuned for the catch of the day.