The oceanside beaches and waves are what originally attracted me to Hatteras Island. But once I got established as a resident, I realized there was more to this barrier island. The Pamlico Sound, or bay side, is a unique and precious resource. I was really impressed by it's bounty for the commercial fishermen navigating those waters. The Pamlico Sound, one of the largest estuaries in the country, is tranquil and beautiful. But I soon learned that it could also turn stormy and treacherous. It has claimed the lives of three of my personal friends, all commercial fishermen.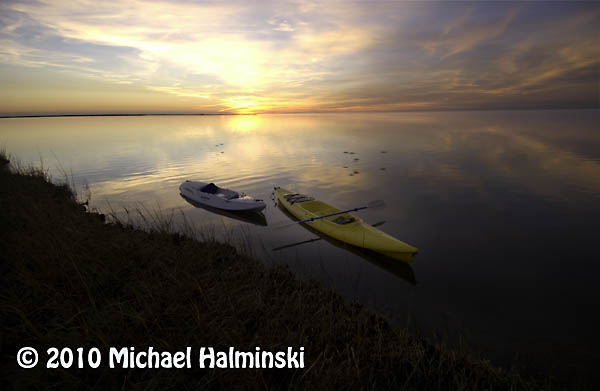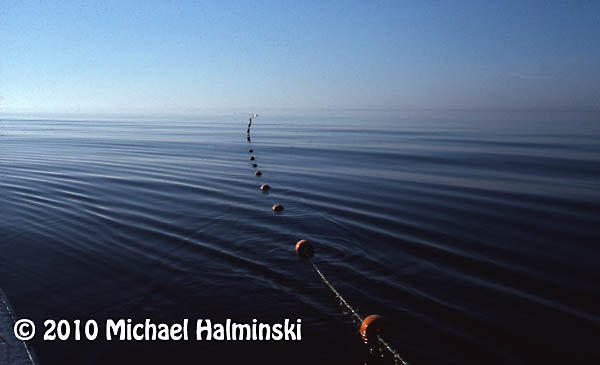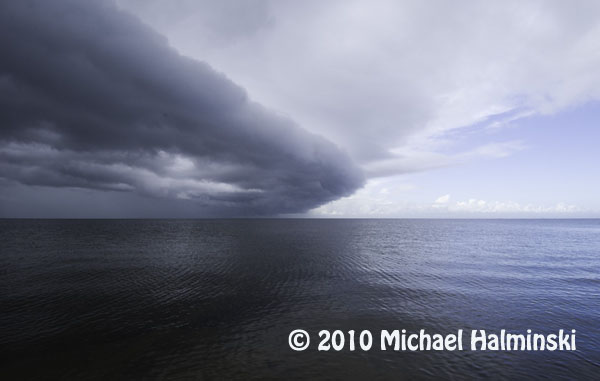 A cold front coming up the Pamlico Sound is a sure sign of changing weather.
Tides are generally driven by the gravitational pull of the moon. This is true, but the Pamlico Sound tides are mainly generated by wind. Winds blow the relatively shallow water from one side to the other. Here in the Rodanthe, Waves and Salvo township, winds from a westerly direction push the higher tides in our direction, while depleting the waters on the mainland side of the sound. Whenever we have a substantial west wind, we can get inundated by tides so high, that roads and properties get flooded. It's times like this that a little elevation means everything.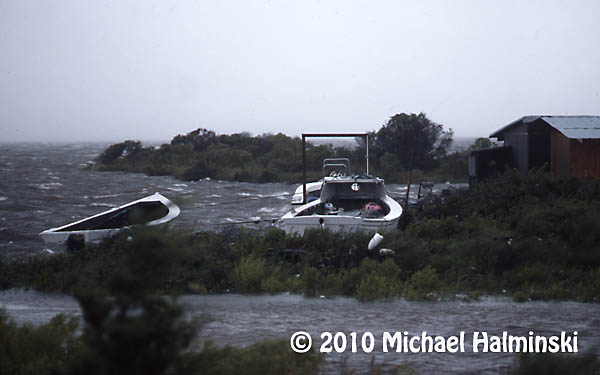 In 1986, Charley went right up the middle of Pamlico Sound. Fortunately it was a minimal hurricane with winds of only about 80. The above image shows the commercial fishing harbor in Rodanthe with seas coming over the bulkhead and on to the roadway.
In 1999 a category 5 hurricane, named Floyd, made landfall in South Carolina. It wreaked havoc on the mainland to our west, but spared us with minor flooding and winds of only about 50 mph. Here I drive my old sacrificial Dodge truck through high tide near my home in Waves.
My yard during Floyd was under 2 feet of water. Here my neighbors, CE Midgett and Dale Midgett wade through the floating debris.
Conversely when winds wail from an easterly direction, the water on our sound side falls, sometimes enough to expose the bottom for a mile out, like during this northeaster in May of 2005.
The most severe tide that I've seen in over 36 years was during the March storm of 1993, when we experienced westerlies of 100 miles an hour. This was caused by a powerful low pressure system advancing up the east coast, not off shore, but centered to our west. We had tides driven 8 to 10 feet above normal. That day the sound waters met the ocean dunes. Cars were ruined and homes damaged by flood.  I had 4 feet of water in my yard, not to mention the breaking waves. Old timers say it was the worst flooding since the storm of 1944. Our worst case scenario is to have the eye of a powerful hurricane going right up the Pamlico Sound.
Just last week we had westerlies of 35 to 50, with higher gusts. The water came up quickly, although not with the ferocity that I've seen before. It was just enough to disrupt business as usual, and cause a nuisance. The tides were about 4 feet above normal. So I had several inches of tide in my yard. Portions of highway 12 were under 1 to 2 feet of salt water, not good for the life of transiting vehicles.
This last storm brought about 8 inches of sound tide in my yard. Home sweet home! The drill starts with vacating vehicles from the premises and parking them on higher ground.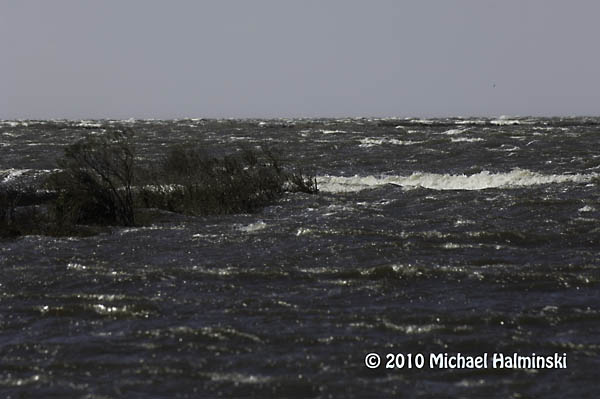 My west property border meets the sound. As you can see, the vegetated wetland absorbs much of the wave action. I don't understand it when people building on the Outer Banks clear cut, remove this buffer or fill the marsh. It's really all that holds this sandbar island together.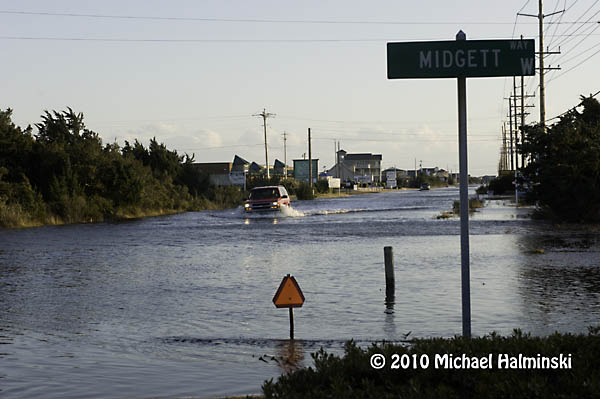 This shot was taken last week, February 10. I wonder if this driver has a captain's license.
Excessive tides have always been a way of life on Hatteras. It's something that requires readiness and preparation. Sometimes it's predictable. Other times it's more of a surprise. It's not a matter of if, but when the next one will occur.