With Earth Day officially two days ago, I thought about some natural wonders that I've seen. During the 80's and 90's, I made quite a few trips to play and photograph in Costa Rica. They were all diverse, fantastic experiences, and I especially admired tropical rainforests.
On a 1994 trip, traveling with long time friend Allen Jones, we hiked into remote Corcovado National Park on the Osa Peninsula and spent a better part of a week camping, exploring and taking pictures.
Considered one of the most biodiverse systems on earth, the park at Corcovado is a classic example of old growth tropical rainforest.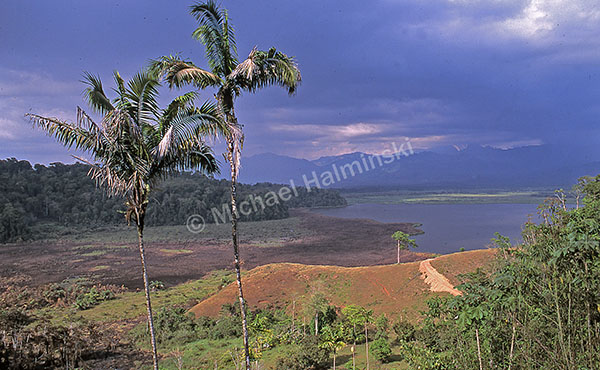 Leaving Corcovado, we noticed a logging road just outside the park so we drove in. A huge clearing indicated lots of tree cutting.
Continuing down the road, we watched a truck leaving, loaded with huge logs.
The red dirt road meandered up into a dense forest.
At the end of the road, workers were dragging logs from the woods then loading them onto a truck.
It was a good time for my limited Spanish to came in handy. We introduced ourselves and asked if we could take some photographs.  They welcomed us and continued working.
Logs were skidded from the forest one at a time then cut to length for transport.
Back in the forest were bare stumps selectively numbered for harvest.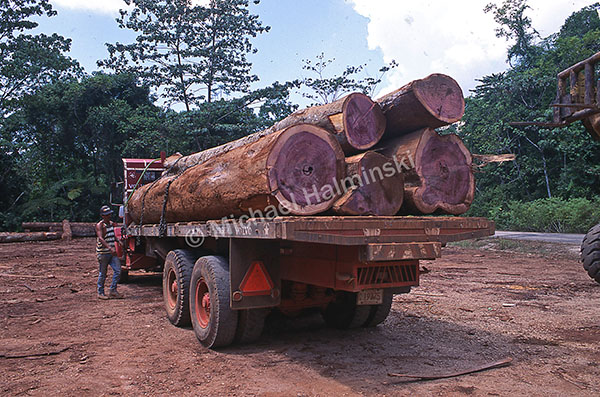 With such beautiful heartwood, the trees must have been quite old.
While cutting a log, the man on the left caught a small wood fragment in his eye. I got my first aid kit equipped with some eye drops to wash it out, a technique I learned as an EMT. He was quite appreciative. Despite destruction of the forest, I had to respect these men, working so hard to earn a living, supporting their families.
Decades later I wonder how much if any, of that virgin forest is remaining.