One of the best things one can experience is companionship. As pets, dogs are cherished and devoted to their owners. Years ago when I became associated with locals that fished commercially, I noticed a number of them taking dogs out on the water.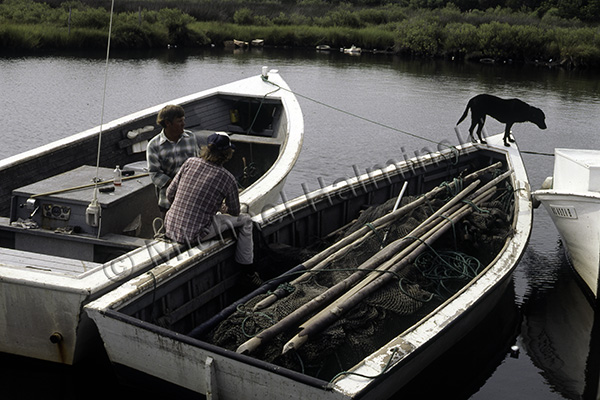 The harbor at Rodanthe was a pretty busy place back then. There were gill-netters, crabbers and long haulers working out of that spot, better known locally as The Creek. In the Summer of 1980, brothers Collins and Belton Gray ran their long haul rig out of Rodanthe. In this photo Belton, Sr and son Belton, Jr contemplate after packing out their day's catch. I don't recall the name of their black lab standing on the bow.
Dale Midgett ran the fish house and packed out the daily catches for Jimmy Austin Seafood Company with his loyal companion, Titus.
Another fishing friend of mine was Roger Woolyhan. He worked out of The Creek and had just begun a career in commercial fishing after moving here from Delaware in the 70's. He bought an old wooden skiff and learned to hang his nets. I went fishing with him a number of times and got one of my favorite shots in Spring of 1977.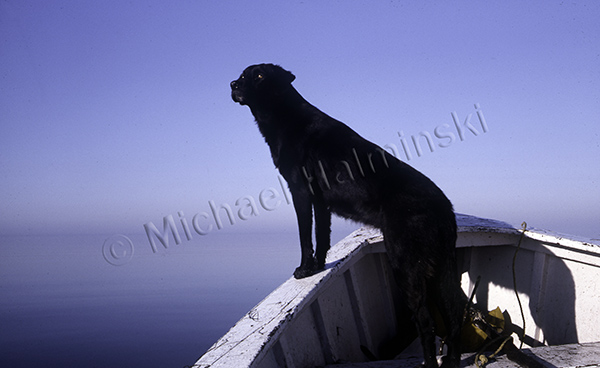 His female black lab was named Moose. She went everywhere with him fishing, surfing or shopping. It made no difference to her, as long as she was close.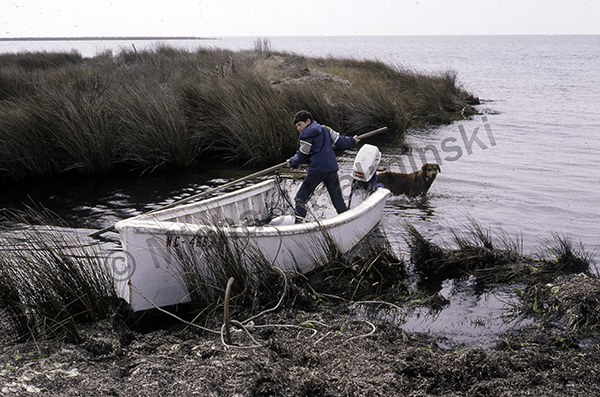 By 1987 after I had finished building my home in Waves, a regular visitor was a young boy named Brian Midgett. He and his extended family lived on property adjacent to mine, and still do. My Chesapeake Bay Retriver named Boca loved Brian and they frequently played in the creek behind his grandparents' place. Boca always wanted to be in the water.
Boca was a big, beautiful Chessie and I took him whenever I foraged the sound for oysters. When he found a terrapin trapped in this abandoned crab pot, we released the poor struggling critter.
Another creek in Salvo belonged to Burgess Hooper. He was born, raised and fished there all his life. With his wife Zanovah, they owned property and rental units. I used to help him on maintenance and building projects. We were pretty close and he loved his canine companion, Princess. She fished with him every time he went out on the Pamlico Sound.
Burgess was an old school Hatterasman and still fished with traditional cotton nets.
Princess anticipating catches from the bow, had sea legs. She was truly a man's best friend… unconditionally!