About this time in 2004, the first tropical system of the season developed in the Atlantic off of northern Florida. As the depression moved northeast paralleling the coast, it was not expected to hit land. In fact, there was no call for an evacuation. As the storm moved erratically, just off the east coast, it was eventually upgraded to Tropical Storm Alex. Still there was no evacuation order.
Then about 75 miles off of Cape Fear, with deep convection building due to the warm Gulf Stream, the storm intensified as Hurricane Alex. Approaching the Outer Banks, Alex quickly developed into a category 2 hurricane with winds in excess of 100 miles an hour. By then it was too late for an evacuation. The center of circulation came within 10 miles of Cape Hatteras, with the western eye wall sweeping along Ocracoke Island.
As a result, there was considerable flooding and high winds on Ocracoke and southern Hatteras Island. Hundreds of vehicles, mostly tourist-owned, were destroyed by salt water intrusion. So visitors were stranded without transportation to get home. Hyde and Dare counties got caught looking on this one, and the damage could have been so much worse. Fortunately, Alex took a more eastward turn and did no further damage as it moved away, speeding off as a category 3 hurricane.
That was another close call.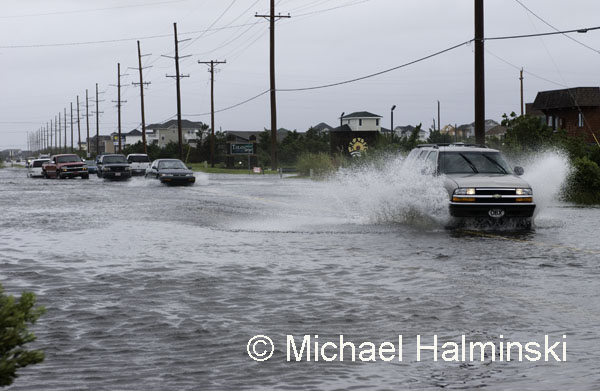 In my hometown of Waves, the rain and tide combined to choke our streets with water, a minor inconvenience. Winds never reached hurricane force either. I ventured out to the beach and saw an unusual sight of thrill seeking tourists riding out the storm. I've lived here a long time, and have never seen anything like it before or since.
The scenery was an interesting juxtaposition, and I photographed from an elevated perch.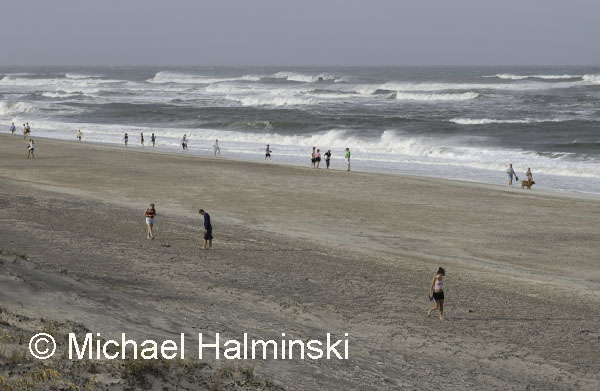 The waves were beautiful, and so were the people.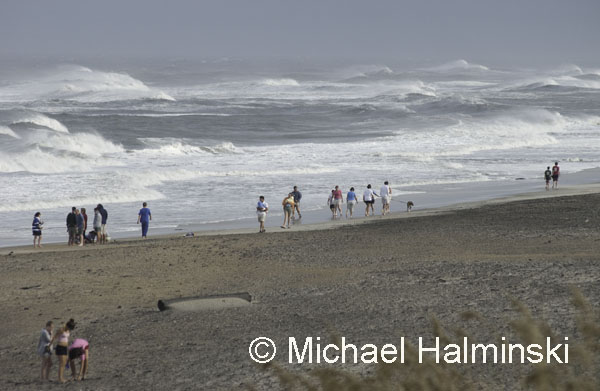 Everyone was having a good time.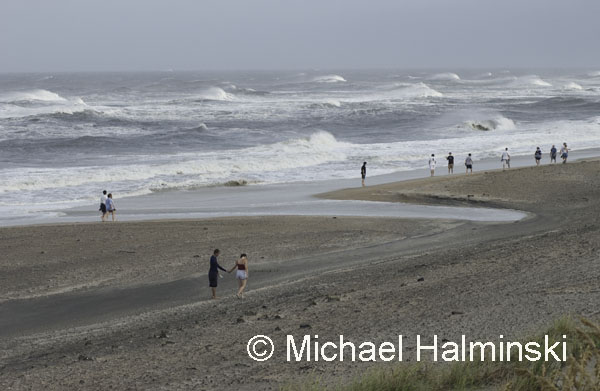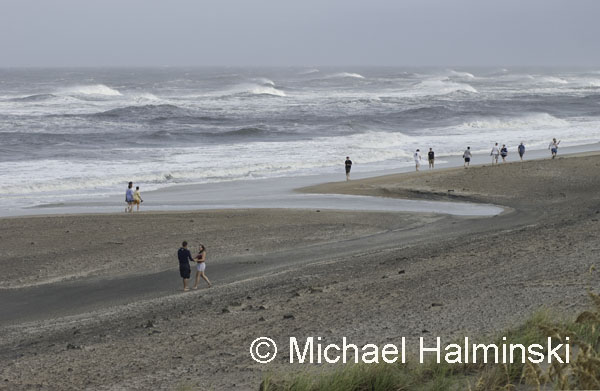 And then something special began to happen.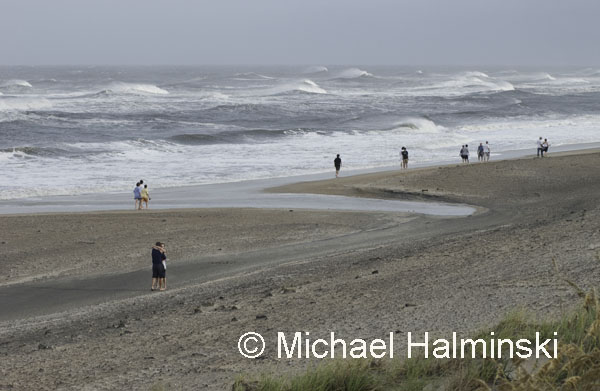 A young couple in front of me were caught in a moment of bliss.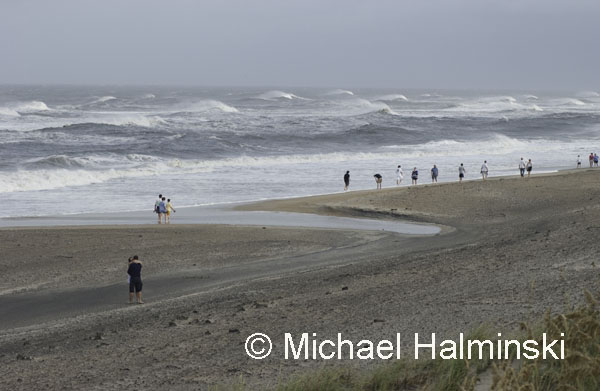 And I could only watch through my camera. It happened so quickly.
If I didn't know any better, I would swear he had just proposed.
Nevertheless, I suddenly felt that I had witnessed something very genuine.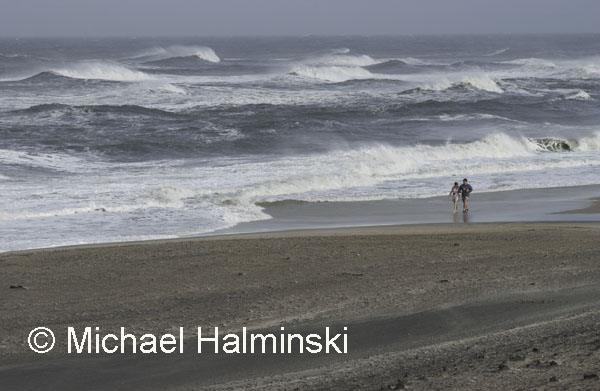 As another couple strolled by, I continued to photograph. The overall scene had been intriguing, and not something that would typify my beachscape photography.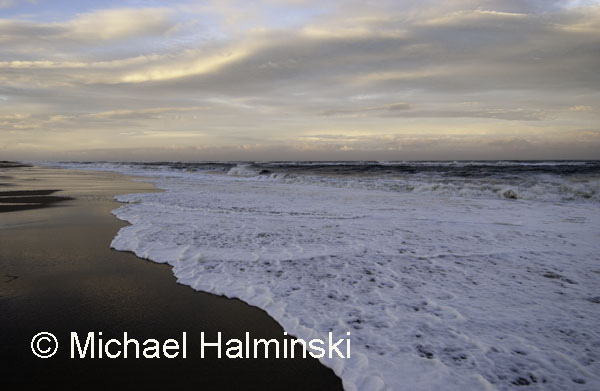 By late afternoon I was on the beach again, experiencing more of what Alex had left behind.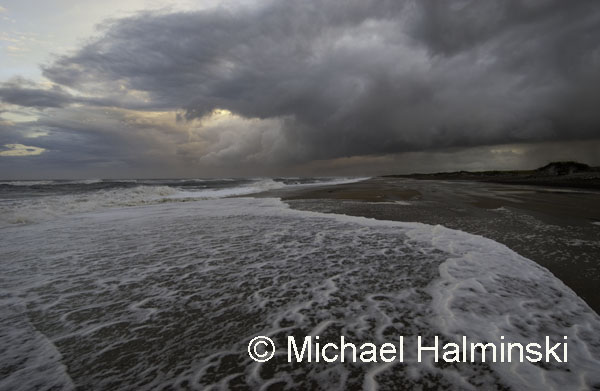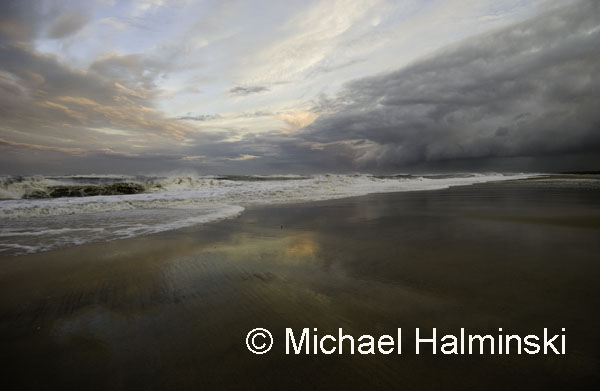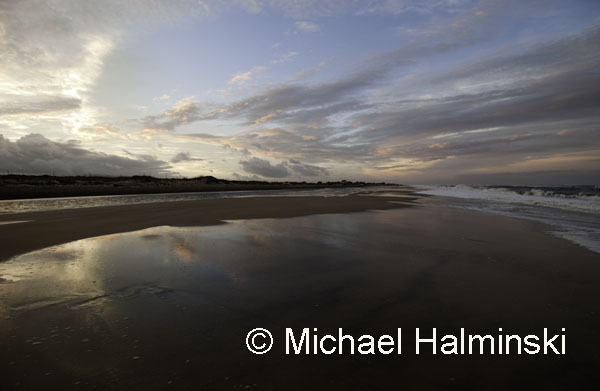 Other than Hurricane Earl missing us by 85 miles in 2010, Alex was about the last time there was any hurricane action around here. So far, so good.