There was a time when surfing consumed a huge part of my life. I checked the waves every morning to dictate the course of each day, so it became a natural progression for me to photograph the ramblings in my surfing world. When the waves got really good, I was often torn between being a surfer or a photographer. Sometimes one action would be sacrificed for the other. Either way it was fun and exhilarating.
I used to shoot a lot of black and white in the early days, and bought film in 100 foot rolls and hand rolled them into individual cassettes. In 1973, I swam out at the Cape Hatteras Lighthouse and shot Frankie Lagana, one of the Buxton boys. My waterproof Nikonos was a great little camera for that intimate perspective.
Mike Wingenroth had a lot to do with my decision in moving to Rodanthe. He and his wife Mary Jo moved there earlier and put me and Louie up for a while. Mike is shown here in Summer of 1974, for an early morning surf north of town, with Bear at his side. It was a time when taking an unleashed dog on the beach was not a big deal.
My room mate Louie Batzler was, and still is a brick mason. We worked locally building foundations and walls. Being self employed had the advantage of leaving a job when the waves got good. Louie was the boss, so when he said "more mud", I mixed a batch of mortar. When he said "surf's up", I went surfing. Louie was riding a "Hot Dog" surfboard when I made this shot at The Shoals, north of the Rodanthe pier in 1975.
A lot of great surfers have ridden the beautiful waves at the lighthouse's first jetty. From my water perspective, Greg Loehr was one of the best. He arrived among a contingent of surfers from Florida in the early 70's. This 1975 photograph was used by Natural Art Surf Shop to screen t-shirts, and more recently on the sign outside their store in Buxton.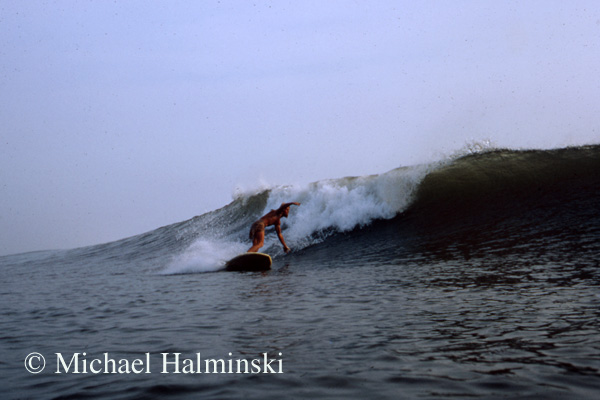 Bryant Clark was another good friend of mine, and a component of the Delaware crew. Bryant and his brother Brent, along with Rich Parolski had a company called "Hot Dog Surfboards". Brent was the shaper, and Rich was the glasser. Bryant did all the glossing and artistic finishing to their boards. Here he is on a nice overhead wave in 1974, riding a fish design at the outside bar at New Inlet.
Robin Gerald and I were nearly inseparable surfing partners. We lived near one another, and some people even thought we were brothers. In an extended sense, we were. Here Robin slides into a glassy wall at the old S-curve in 1978.
Kiel Jennette was still in high school in 1977. He was the adopted son of the last Cape Hatteras Lighthouse Keeper's son, Rany Jennette. Kiel had a great smooth style of surfing, and was a pleasure to watch. This was taken during a beautiful 3 day swell at the lighthouse. I often wondered if he was skipping school for these waves. Years later, Kiel became quite an accomplished trim carpenter. Unfortunately his life was cut short in an altercation with a noisy neighbor. Kiel confronted him, and as he turned away, the neighbor shot him in the back.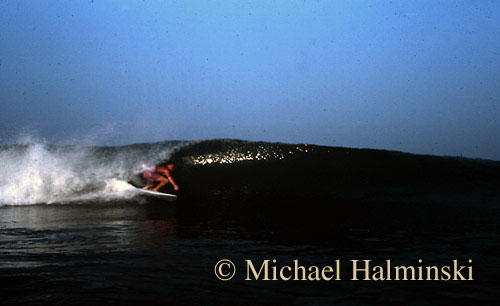 Jimbo Brothers was one of the Nags Head surfers to frequent the Rodanthe breaks. In this early 80's photo he ducks into a pretty curl north of the pier.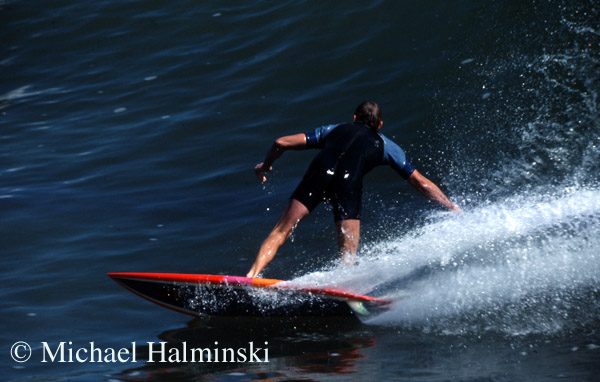 One afternoon in 1984, I walked out on the Rodanthe Pier, and was lucky to see a surfer from Florida in the lineup. Tall and lanky, Mike Tabeling had a very powerful style.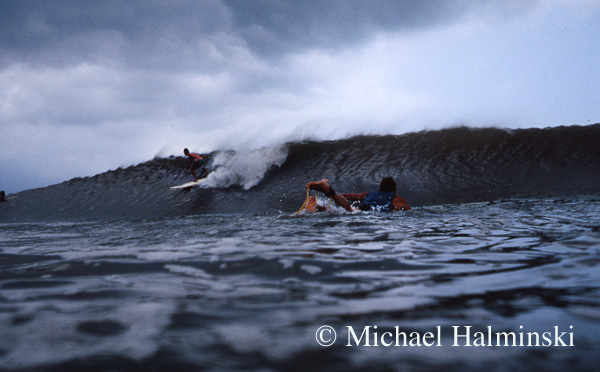 !989 was a good year for tropical cyclones. My cousin Johnny Halminski is from California. He visited me that Summer, and got a good dose from an offshore depression while paddling out at the Rodanthe Pier.
For a while I thought that I'd pursue the life of a surfing photographer, work for a publication and even move to Hawaii. As I got more immersed in life on Hatteras, I could see that my career exclusively as a surfing photographer was not to be. I gravitated toward a variety of other local subjects. By the 1990's shooting the surfing action became more of a side line to supplement my other work.