Tropical climates were the norm, but Cabo was a defining departure from that. Days and nights were getting cooler heading north with sailing conditions  less than ideal. Winds were picking up, but generally head on. 
After 5 days in Cabo we started out in seemingly mild conditions until rounding Lands End, directly into a 35 knot breeze. Challenge was wet and rolling. Clear nights were spectacularly speckled with stars. Rounding Punta Tosca at night, spinner dolphins breached all around the boat. In darkness they were mostly heard rather than seen.
Motor-sailing into the weather continued.
Next night on a 0100 watch, I savored a shooting star streaking over the lighthouse at Cabo San Lázaro. It was a good sign. Kelp beds were appearing, as the environment became more temperate. We'd gone 120 miles since leaving Cabo San Lucas 2 days prior. I began thinking about home, my family and friends until retiring at 0200, dozing off.  
Later that day, I got up for an 1800 hour watch, climbed out the companionway to see Billy at the helm, smiling, no motor, reefed down, heeled over 45° and making 7 ½ knots to windward.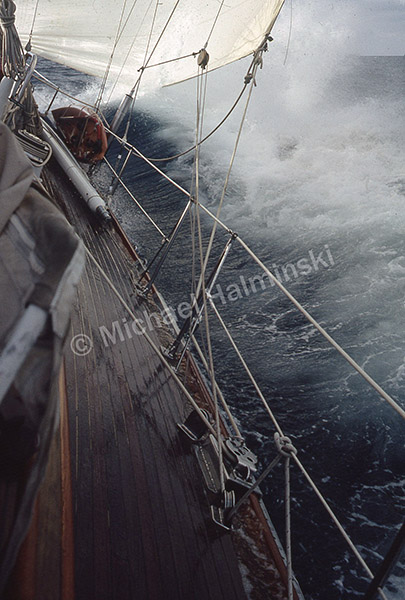 Spray flew over the bow in 6 foot seas. Sheets of water flooded the leeward deck. It was exhilarating and so far the best sailing of the trip. Challenge was made for this! By the time I took the helm it was blowing 25 knots and we were making nearly 8 knots.
Jack was loving it!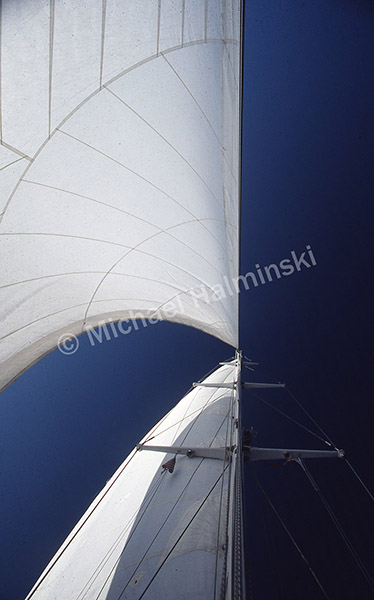 As long as a point of land gave us a lee, sailing was favorable.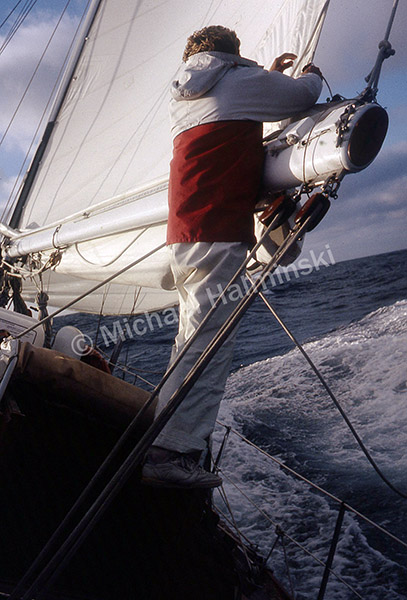 Billy made adjustments to the main.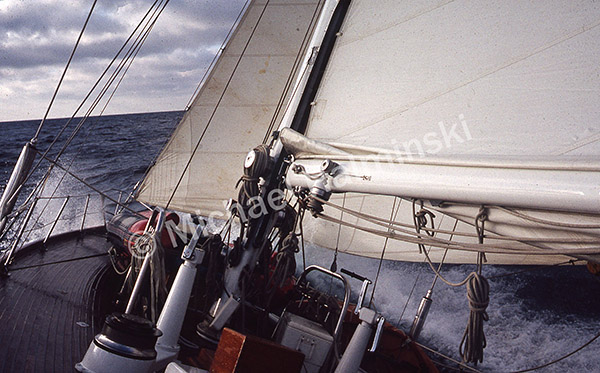 Trent relieved me at 2000 hrs as the moon rose, brightening the sky. 6 to 8 foot seas, heeled over and I was lying in the cockpit standing up. It was invigorating. 
Topside I shot with my waterproof Nikonos camera.
North of Isla Asunción, the Baja coastline began taking on a remote, primeval landscape.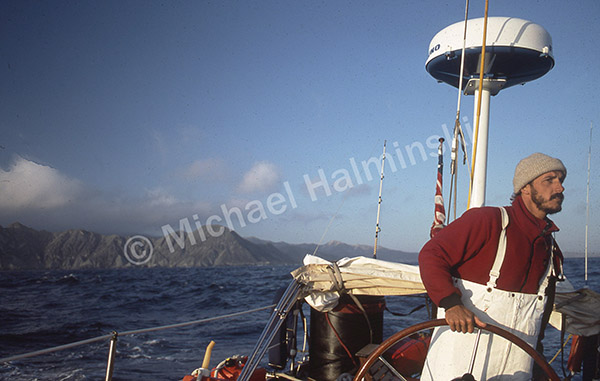 Captain Trent did a great job navigating the coast.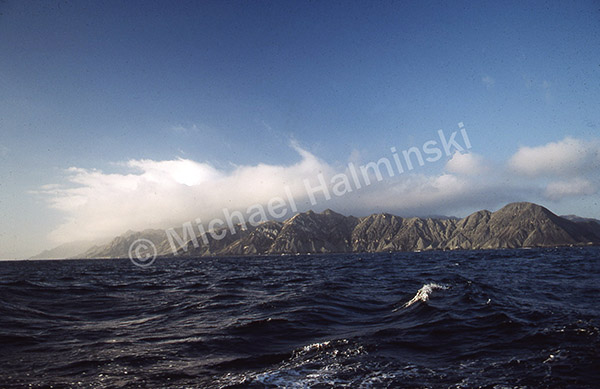 We stayed clear of Punta San Pablo.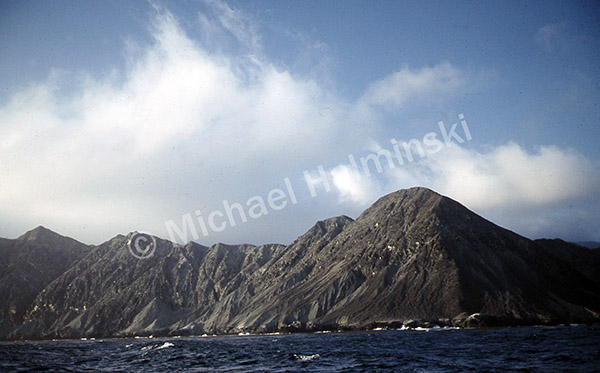 Next stop was Bahía Tortugas and the abalone fishing village of San Bartelemé.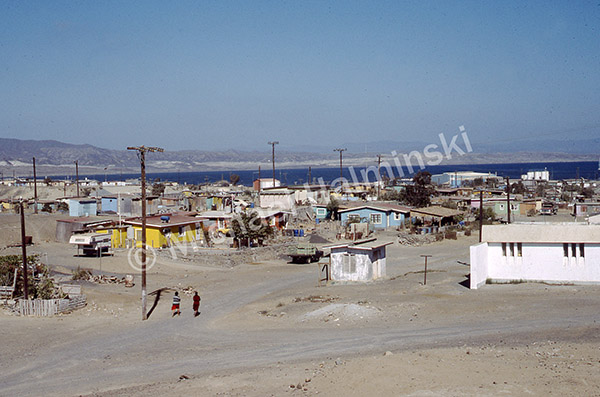 The isolated little town seemed nicely situated, nestled within Turtle Bay.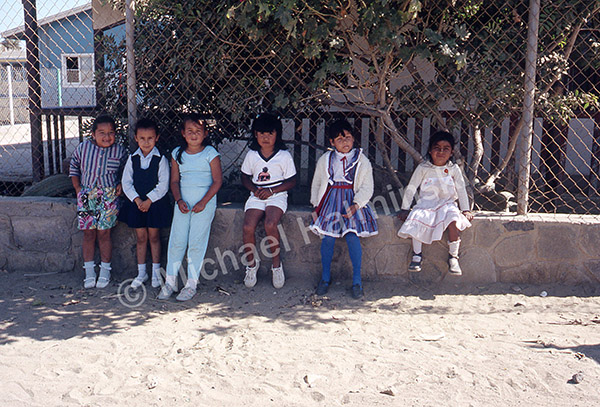 I couldn't help but interact with some friendly young locals.
Before departing San Bartelemé, Escapade's crew came aboard for a meal of lobster, steak and tuna. From the galley of Escapade, Lee brought homemade rolls and apple crisp. We continued on…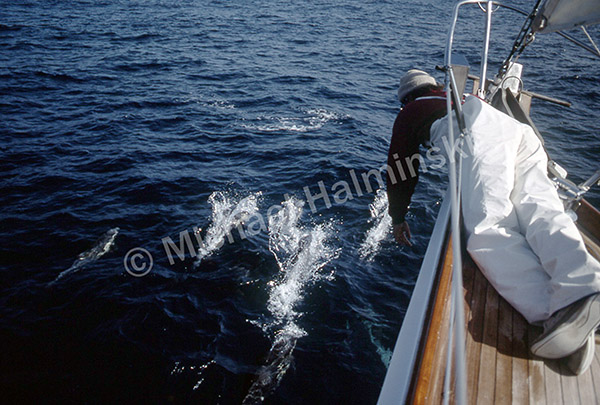 and spent two more days at sea.
June 13 we arrived in San Diego, along with Escapade to clear US Customs.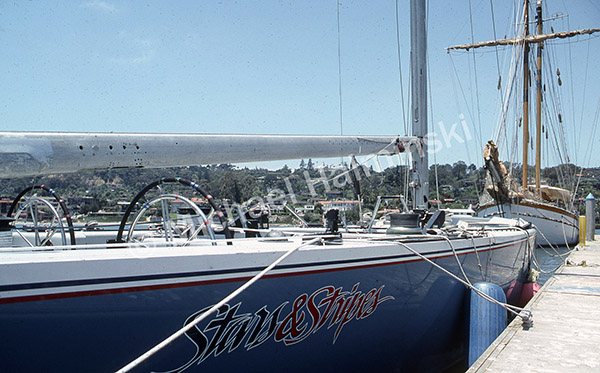 An America's Cup boat was tied up at San Diego Yacht Club. Neil Young's hundred foot schooner Ragland, was docked in front of it.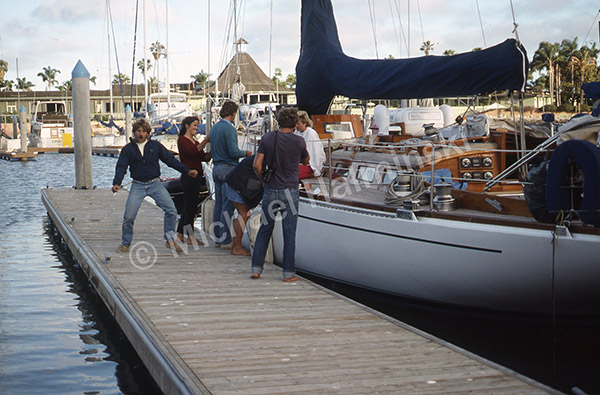 June 15, after 6 weeks and over 3,000 miles, Challenge was berthed at Newport, California.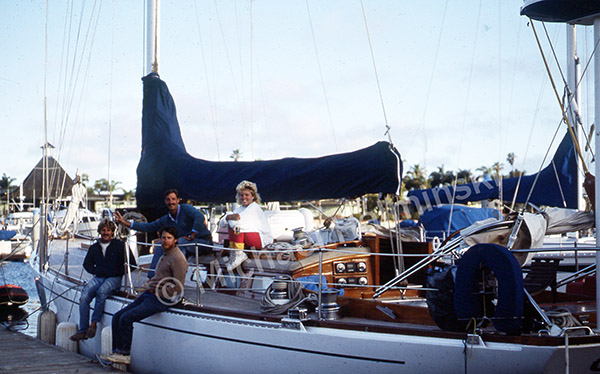 We bid farewell to Lee and our friends on Escapade, still headed for Seattle. It had been an amazing trip with them.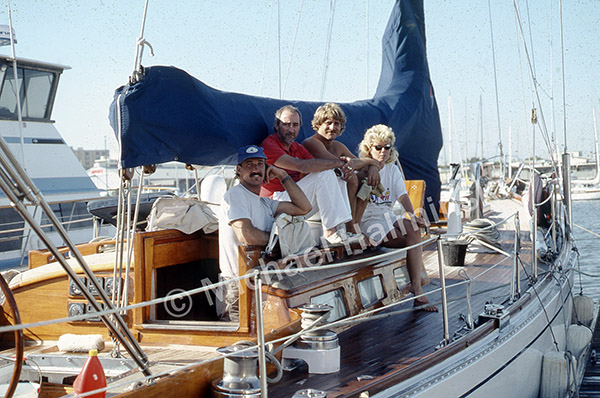 John McVie greeted us and was grateful, reunited with Challenge. It was nice to meet him, and rewarding to take part in such a memorable trip.
left to right: Trent, John, Billy and Jacque
These last 7 blog posts were taken from photos and journal entries made in 1987.