Last year when Denise and I visited relatives in Kansas City, Missouri, we were treated with a great tour of downtown. There were so many interesting things to do and see.
One of the finest museums that I've ever visited is prominent in the landscape. The National World War I Museum was opened in 1926 and features a 265 foot stone spire as a tribute to those that served in the First World War.
One can spend days, weeks or longer going through the complex. Our second day visit was on a rainy morning and as we went in, I was attracted by the glass ceiling over the lobby entrance, so I went back out in the drizzle and made two exposures over the wet glass panels. One was vertical and another horizontal. They were quick, handheld shots with my current camera of choice, a Lumix mirrorless body with interchangeable lenses.
One of the most prestigious local art shows here is the annual Frank Stick Memorial Art Show hosted by the Dare County Arts Council. It began 41 years ago and I've entered a piece in nearly every one.
This year I decided to print the above mentioned photograph and apply an age old photo technique. I remembered experimenting with solarized prints in my darkroom around 1980 and the results were usually surreal and unpredictable.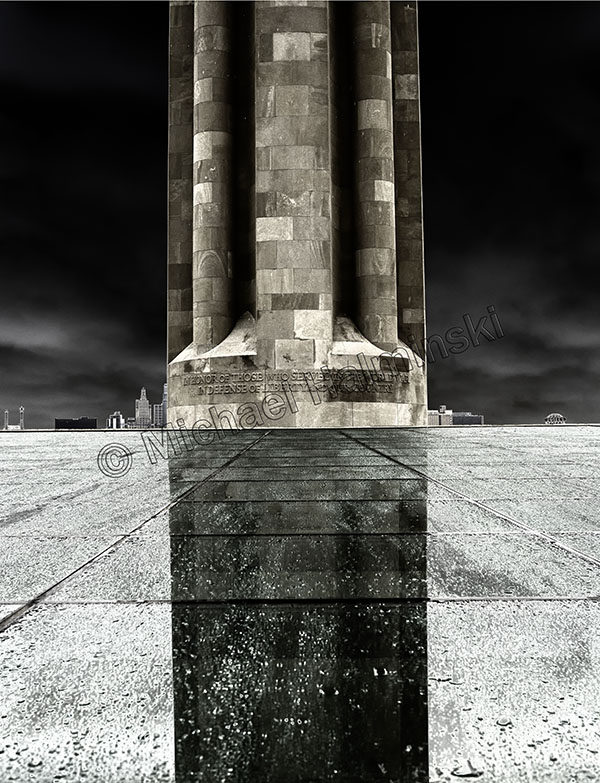 Tones are often reversed resembling a negative. Photoshop made this easy to accomplish and turned a drab day into one looming and dramatic. I entered a 16×20 print and was given an Excellence Award. There were over a hundred entries and ribbons for me have been rare in this venue.
This year's show was poignant in that it was dedicated to my friend and prolific Nags Head artist Glenn Eure who passed away last September at the age of 86. He was a well-known and gifted artist. A Purple Heart recipient, he served combat tours in Korea and Viet Nam. I think he would have liked my print entitled TRIBUTE IN KC.
The inscription on the monument reads: IN HONOR OF THOSE THAT SERVED IN THE WORLD WAR IN DEFENSE OF LIBERTY AND OUR COUNTRY