Last month I had a request for an aerial photograph of the tri-village area. That got me digging into some old images. Views from above are dramatic and show how isolated we are, surrounded with water.
In January of 1985, we had a severe cold snap, and the Pamlico Sound froze out as far as one could see. It was frustrating to photograph from land, so I hired a pilot to take me up to an elevated vantage point. That was the first time I did any aerial photography.
The spectacular view of Rodanthe, Waves and Salvo from 7,000 feet showed the massive ice flows in Pamlico Sound.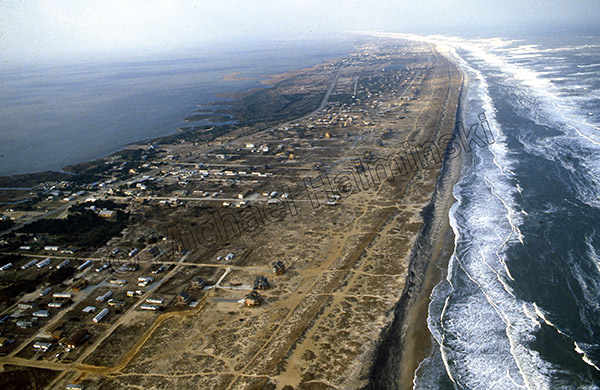 Later during a 1989 northeaster, I shot from 1,000 feet over Salvo.
While airborne in 1991, I made some fair weather photographs of the village.
My latest aerial shot with a similar perspective was taken in the Fall of 2011.
My how this place has grown!