Last year Magnum photographer David Harvey asked me to help him on an assignment for a National Geographic story about rising sea level. He wanted to shoot the ocean encroaching on the Mirlo Beach subdivision in north Rodanthe, a familiar place.
The oceanfront at Mirlo has had a history of erosion for as long as I can remember, and the wave action there has attracted surfers for years. In 1984 Hurricane Josephine took out a protective dune line, and it has been a more vulnerable spot ever since.
Not only has the paved highway been taken out numerous times, but some homes have fallen into the sea as well. A few homeowners have moved their buildings to somewhat safer ground. The first house to be built on the Mirlo Beach oceanfront was called East Wind. It was built by developer Roger Meekins as a spec house. Later sold to new owners, it was renamed Toes in the Sand. It became the second house to be saved on that ill-fated oceanfront. Serendipity moved in 2009, was the first.
With Toes scheduled for relocation to another lot, David wanted to document it. Knowing that Cape Hatteras Electric Membership Co-op was going to be involved moving power lines, I contacted CHEMC to see if David could use of one of their bucket trucks in the process. Everything fell right into place.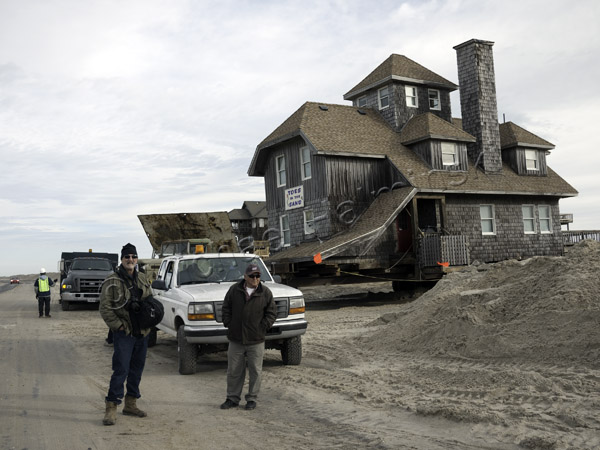 Just before the house was pulled off the beach, David waited with Carroll Midgett.
 With the house was underway, I drove David down the road to the bucket truck.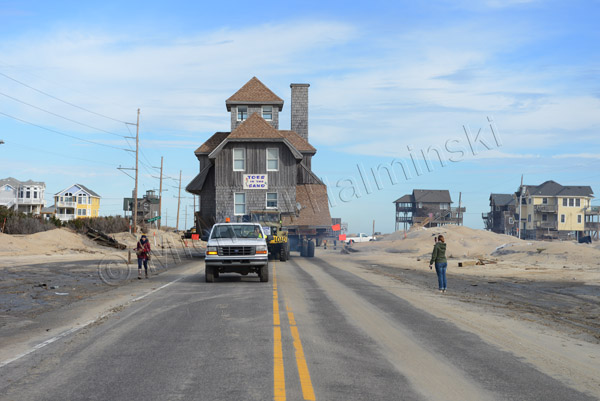 Once up in the air, he got the desired perspective.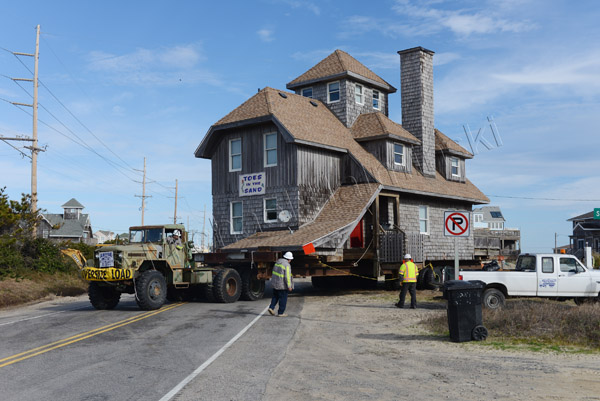 Backing in was a piece of cake for Abode House Movers.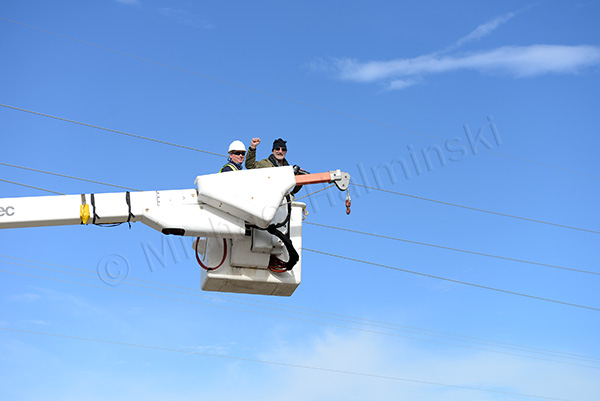 In the end, David was pleased.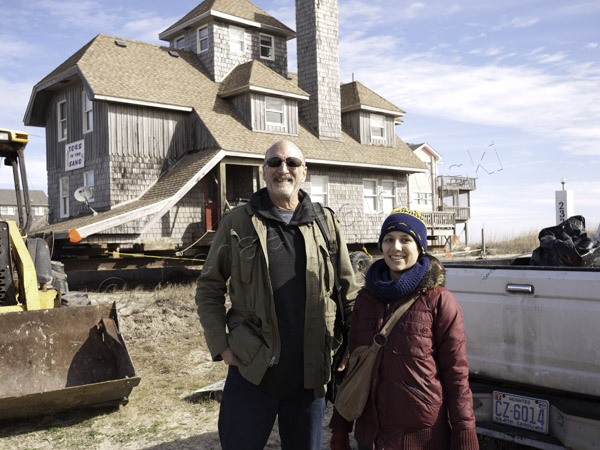 After a job well done, David pauses with Candy, his assistant… before going off to Mac's for lunch.
For a look at the story, go to this web address:
http://news.nationalgeographic.com/news/special-features/2014/07/140725-outer-banks-north-carolina-sea-level-rise-climate/?utm_source=Facebook&utm_medium=Social&utm_content=link_fb20140725news-outer-banks&utm_campaign=Content&sf3855533=1