When I first moved to Hatteras Island, I noticed how special the locals were. Some families had lived on the island for generations, their ancestors arriving here as victims of shipwrecks. They were isolated and not affected by the outside world very much. I admired their simple, resourceful lives.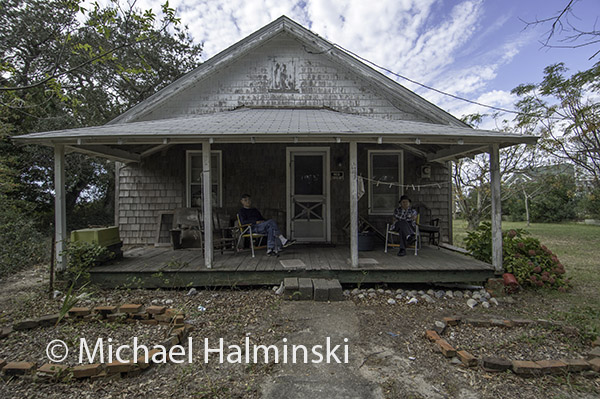 William and Edward Hooper were born and raised in Salvo. William worked in Norfolk for a while, but other than that, they were here all their lives. They were brothers and best friends. You would hardly ever see one without the other, and mentioning one almost always required mentioning the other. They were inseparable and the kindest people you'd ever meet.
Edward was widely known as the Postmaster of one of the smallest post offices in the country.
They were always hospitable when I visited them and would sometimes invite me for dinner.
One of my last visits was November of 2010. Eating at the kitchen table I noticed a window pane had fallen out and I volunteered to fix it.
When I returned the following day to work on it, they came out and stood under an old fig tree to chat with me. I asked if I could take their picture, and they said yes.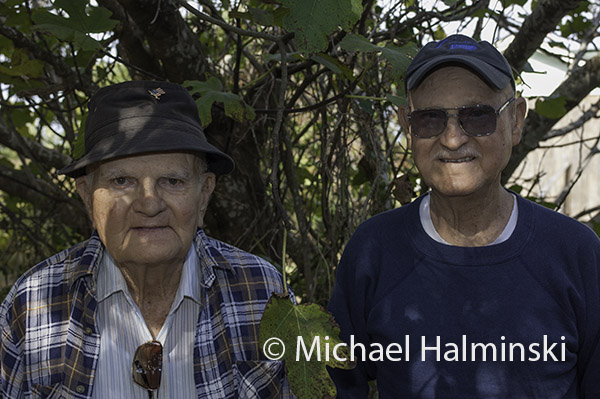 Little did I know that 9 months later, Hurricane Irene would sweep through and drastically change their lives. The flooded family homestead was no longer habitable so they were displaced to an assisted living facility.
Edward passed away a year and a half later and William 8 months after that.
They were 91 and 83 respectively.
I miss them a lot, and am reminded how things never remain the same on this beautiful barrier island that we call home.