About 1964 Bruce Meyers popularized dune buggies with his innovation of a fiberglass body that fit over a shortened Volkswagen chassis. The Meyers Manx was sold as a kit and could be assembled by most anyone with a knack for mechanics. Other companies were later spawned from the same concept. In 1969, I built a buggy from a spinoff produced by Empi. It was so much fun and honed my interest in cars, especially VW's. That was more than 50 years ago. 
Earlier this month an Outer Banks tradition that began over a decade ago, returned with 84 registered participants. Manx on the Banx is a gathering of folks with a common interest. That interest is dune buggies. In the past, I've enjoyed watching and listening to them buzz through town. This year we were invited on the Hatteras Island drive in a loaner buggy, courtesy of our friends and neighbors at Island Cruisers.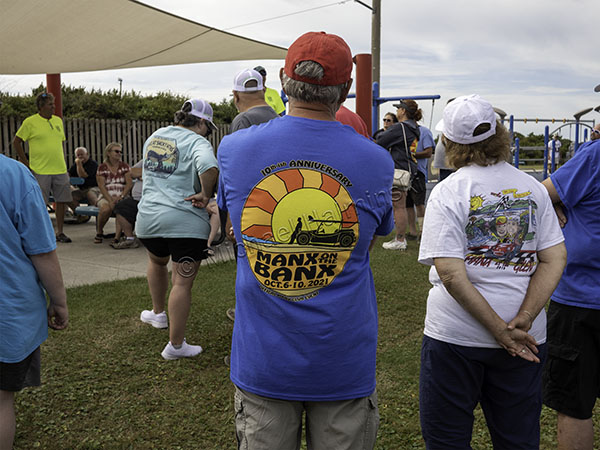 On the first day in Nags Head, an introduction was held for registrants and their guests.
Raffle tickets were sold for a quilt made from t-shirts belonging to Bruce Meyers. It was particularly poignant in that Meyers had passed away in February at the age of 94.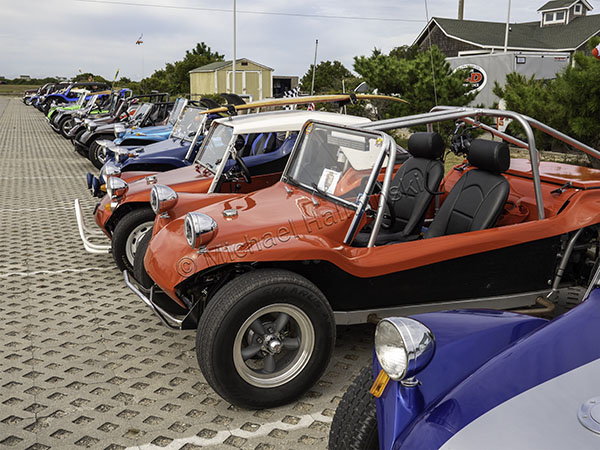 Buggies of all descriptions were assembled, each one individually custom built.
They are powered by a variety of motors, but mostly modified Volkswagen engines.
They came from all around the country. Many were personally autographed by Meyers.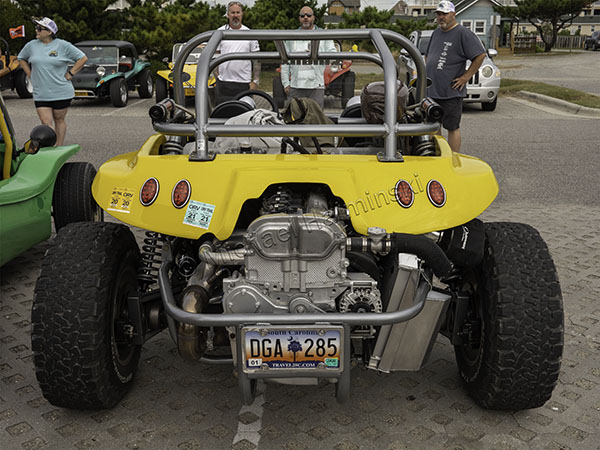 This one is powered by Honda.
A Manx from Ohio was built using a Corvair chassis and motor.
I was intrigued by the different exhaust systems.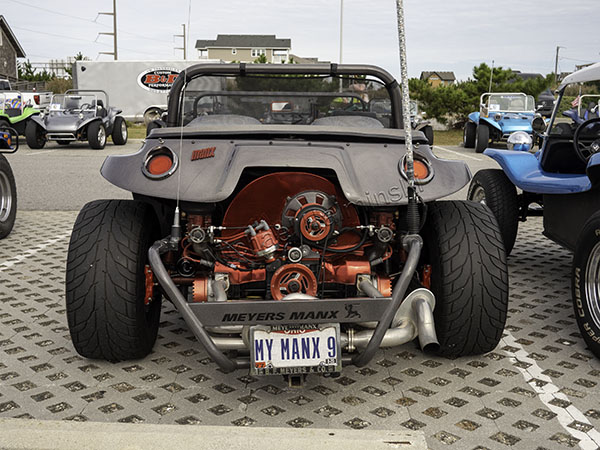 Another entry from Ohio sports a VW power plant with a metallic red finish.
I don't know what was behind this, but it looked exotic.
From the front, Meyers Manx buggies have a classic look.
By the afternoon we were gathered at the Cape Hatteras Lighthouse.
One paint job really caught my eye.
Driven to the Outer Banks from California, this beauty has competed in the Baja 1000 several times and one year took top honors in its class. Known as a Dual Sport Baja Edition, it uses a water-cooled Subaru motor.
Like many others, it pays homage to Bruce Meyers.
This buggy reminded me of my bright yellow Empi Imp.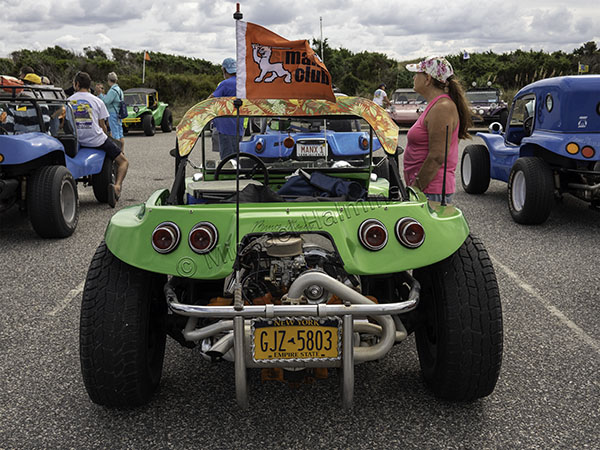 One Hummer-style buggy was there from New York. The body was manufactured in Washington state.
Eric and Damon Stump are two thirds of the Island Cruisers crew. At their invitation our day was well spent.