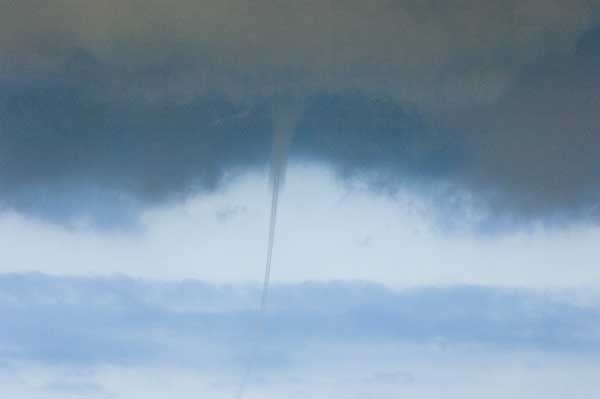 The initial days of August on Hatteras Island, we experienced many short-lived thunder storms, almost daily. In the routine of digital photo editing, more than once I found myself not trusting my surge protector, shutting the computer system down and pulling the plugs.
Early Sunday morning the 10th, I awoke and gazed out on the Pamlico Sound from my bedroom window. There I saw an ominous frontal system approaching. One cloud had a spike hanging from the bottom, and in a matter of minutes there was a slender waterspout spinning down to the water. It was however very brief, as I drove my truck north to follow its progress. As suddenly as it appeared, it vanished.
The storm clouds remained, and I drove around looking for dramatic images. I do this a lot spontaneously. Sometimes it pays off. Most of the time, it doesn't. I pulled into an area locally known as the "Rodanthe Creek". This is a place where much of the commercial fishing activity has taken place over the years. With the passage of time this usage has dwindled significantly. For years, I considered "the creek" to be a center of cultural activity. Most of the fish houses, where the daily catches came in, are gone. Now there is only one left, and it is utilized very little. I used to love taking pictures there, and today I made some shots that made me nostalgic. I could almost feel the excitement and activity of days gone by. Today I was glad to see a shrimp boat tied up to the dock.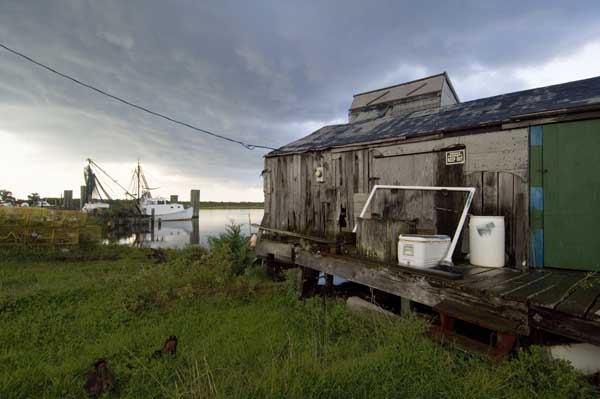 A short time later the weather cleared, only to have another heavy squall come down from the north, slightly offshore. I headed over ramp 23 to access the beach. There was a dramatic wall of rain moving south, and blowing a gale. With the adverse conditions, I couldn't get out of my vehicle. I rolled down the window, took a quick shot. As I pressed the shutter a second time, a vehicle unexpectedly passed right in front of my picture. My initial reaction was that this "accidental tourist" ruined my beach scape.
I rolled up the window, and sat in my truck. The wind and rain intensified. Suddenly lightning bolts were striking all around me. Foolishly, I had a false sense of security in my truck. Then the hail stones began pelting the beach. That's when I decided to head back home. It was just another day at the office.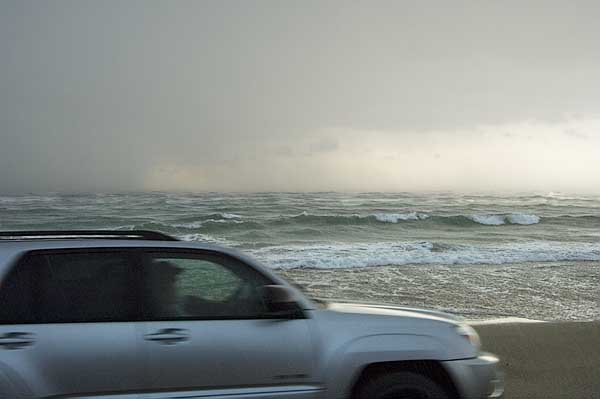 To see my waterspout shots from 2005, follow this link.
http://outer-banks.com/halminski/waterspouts.cfm