When I moved to the island decades ago, some of the first people I met were transplants from Michigan. Tim and Karen Merritt were a young married couple that had relocated to Salvo a couple of years prior to my arrival. Along with them was Tim's long time friend, Brian Huff. They grew up with each other. Better known as BJ, he was different than many of my newfound friends in that he didn't surf. He loved walking the beach, enjoying the place, its people, and he truly loved fishing. We became close friends.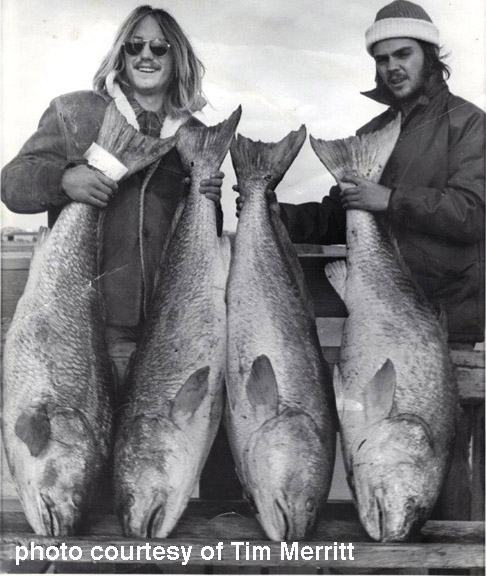 1972 was a good year for drum fishing on the Hatteras Island Fishing Pier in Rodanthe. As a matter of fact, it was the same year that Elvin Hooper set the world record with a 90 pounder. In this photo taken by a pier employee, Tim Merritt (left) and BJ Huff (right) display their big drum, also known as channel bass. They were in excess of 50 pounds each. The pier was longer then, and the best fishing was in the worst weather.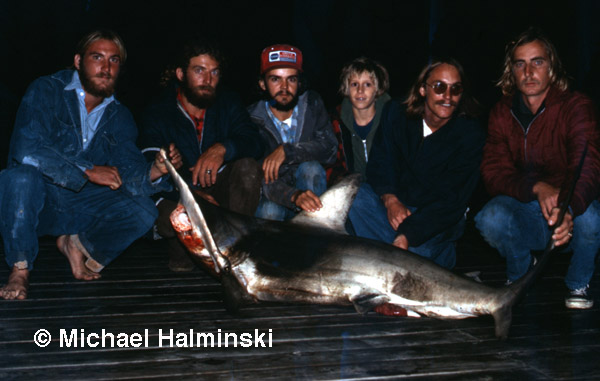 A few years later in 1975, the locals were catching some sizable sharks, mostly late at night. It took BJ over an hour to land this hammerhead. There were some appreciative onlookers that night. They posed with BJ for this photograph. From left to right: Bruce Midgett, Larry Midgett, BJ, Butch Luke, Tim Merritt and Jimmy Hooper. The shark was cleaned and all the meat packaged. Our freezer was stocked, that is until we tried eating it. It was full of cartilage and unpalatable. As much as we didn't want to waste any, it all had to be thrown out.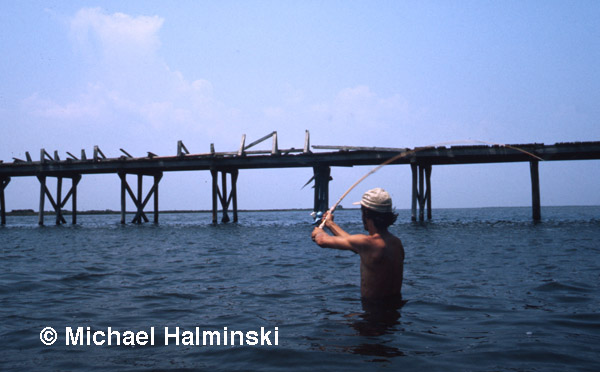 New Inlet up on Pea Island was one of our favorite spots. I used to walk out on the old bridge, and hang strings with chicken necks over the side. I always brought home a good catch of hard crabs. At one point, BJ learned where the deep holes and channels were located. He would cast sting ray grubs on to the edges and catch flounders or speckled trout. I took this photo of him casting in 1975.
BJ enjoyed fishing the waters of Pamlico Sound. Our friend Gary Bishop had a boat and took us out at Hatteras to a spot called the cobia stake. It was named for a channel marker piling near the inlet. In this photo taken around 1976, BJ reels in a nice cobia. Gary caught two. By the time we made it back home, it was getting dark. We went to the pier at Rodanthe to weigh and clean them, when I took this photograph below.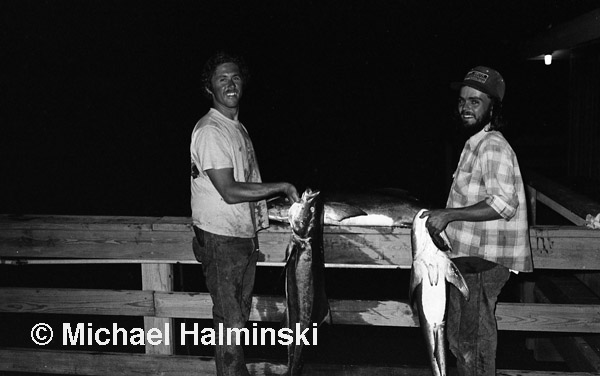 BJ and I were roommates for about 2 years. We lived in a trailer in Salvo rented from Barbara Midgett for $200 a month. It had 3 bedrooms. One for each of us, and one for my darkroom. During that time, our lives were relatively carefree. All we worried about was making enough to feed ourselves and pay the rent. BJ also had the pressure of making payments for his nice GMC pickup truck. Most of us drove vehicles that had tendencies to break down. BJ was always kind enough to let us use his dependable truck in a pinch.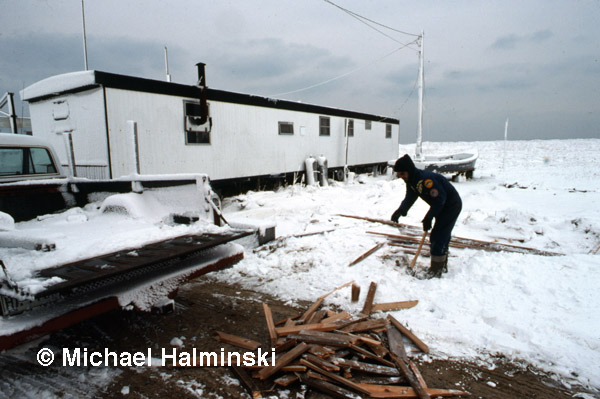 March of '78 was a cold one. We kept warm by chopping wood gathered on the beach. There were plenty of oak planks washing in back then. Note BJ's 16 foot wooden skiff in the background. He bought the boat from Les Hooper.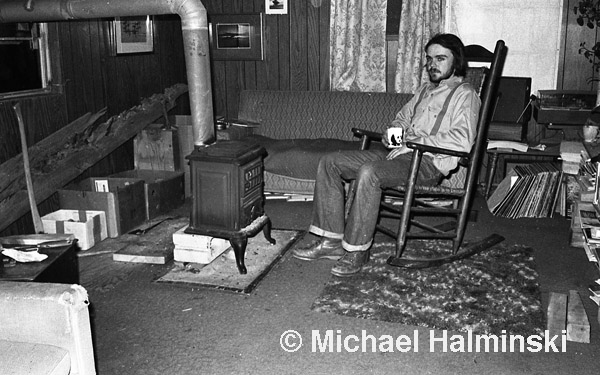 Inside was warm and cozy, even when the electricity went off. We had no TV, only a KLH turntable to spin a meager record collection. We listened to jazz and blues, mostly. The parlor stove was given to me by my Aunt Jo. She had just moved out of an old house, in San Marino California, where General Patton was born. That stove was a very functional piece of history. We used a cinder block to replace the missing rear legs. The stove eventually cracked and fell apart. To replace it, BJ bought a big pot bellied stove from Les Hooper.
BJ did a lot of beach-combing. Most of the time, he'd bring home some seashells or driftwood. Sometimes the bluefish would be running, pursuing bait and other fish. One day he caught this nice trout without a fishing rod, picking it up with his bare hands, right off the beach. Photograph below was taken in 1977.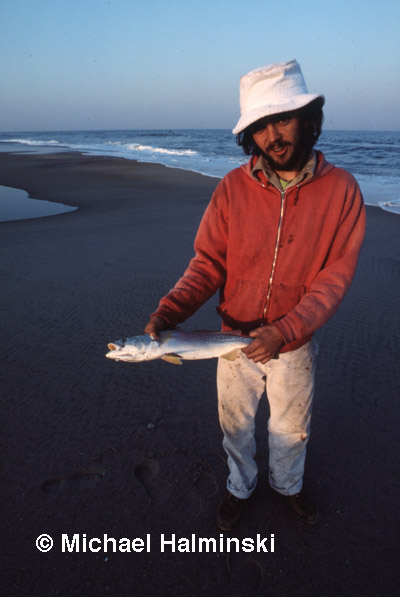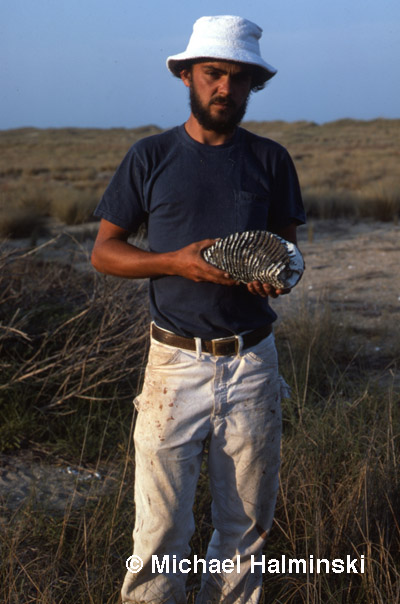 Another day in 1977, BJ found something very unusual. We had no idea what it was, and used it as a bookend for over a year. As I recall, it also made a good door stop.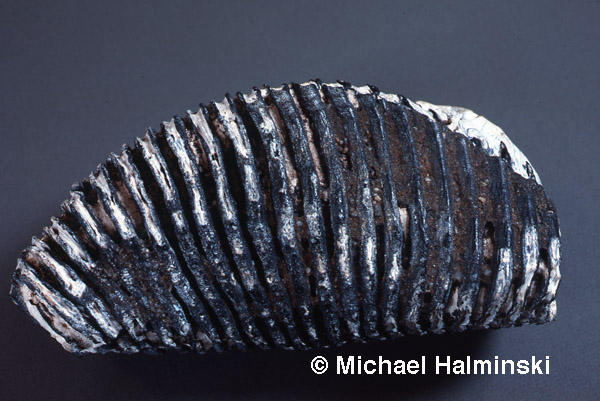 My girlfriend at the time was a college student, and very curiously took it to be examined at the Smithsonian in Washington. It turned out to be a 10 to 20 thousand year old molar from a wooly mammoth, a significant find indeed.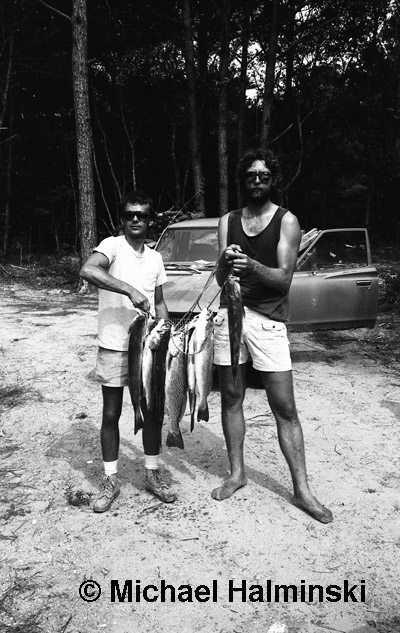 Around 1980, BJ and I were building a saltbox in Buxton Woods for friends, Jim and Marcia Lyons. During construction the fishing got good, so Jim and BJ left for a short time and returned with a stringer of gray trout. We always ate well.
In 1980, I had been working for Alex Kotarides a few years. He owned a large bakery in Norfolk, but had an estate in Salvo. I did waterfowl hunting guide work for him in the winter. Other times, I worked odd jobs for Alex, including construction of the new house, raising ducks and geese, then a stint at commercial fishing that Spring. I got BJ to help me.
We used 3000 yards of gill net, plus had access to Alex's small fleet of boats. We fished half the nets in shallow water near Gull Island. The other half we set in deeper water past the reef. We had good results, out catching the locals nearly every day. In this shot taken by BJ, I had just pulled in a nice red drum from the deeper water. It was a beautiful sight to behold, glowing in the submerged net below. We were fishing in a 23 foot Sea Ox at the time.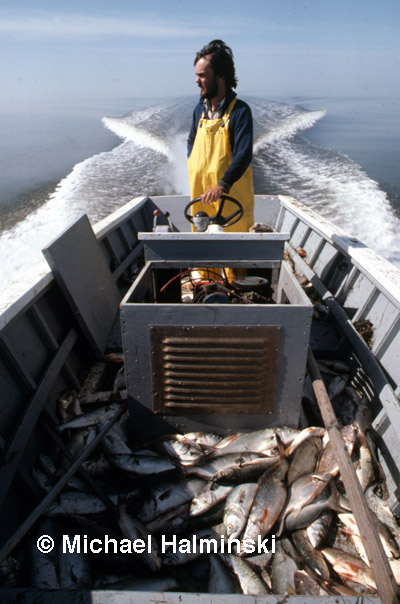 Other times we fished from a 21 foot wooden boat, called Falcon, built by Willy Austin in Avon. It had an inboard 4-cylinder Ford Pinto engine set up for marine use. It was a nice handling boat with a full keel. We loaded up with fish for a month before retiring the rig when the bull nosed skates migrated through Pamlico Sound.
That was the last fishing I did with BJ. He went on to live in Avon working construction, got a girlfriend, married her and they had a baby boy. They moved back to Michigan, and split up after a while.
I didn't see BJ for years. He remarried, had a daughter and moved to Charlotte. He came back briefly, perhaps 20 years ago. He did some exceptional restoration work for us at the Chicamacomico Lifesaving Station, then returned to Charlotte.
After a prolonged absence from the island, BJ suddenly showed up at my gallery door one day just a few years ago. Expecting a gallery customer, I must have had an expression of un-recognition on my face, only to hear him say, "BJ". I knew then, it was my good friend again.
I could tell that he missed Hatteras Island, yet still felt a close connection. He returned several more times, looking up lots of old friends. He seemed to rediscover himself. It was great to see him again. He returned Spring of 2011 and spent the weekend with me.
Back in Charlotte, he kept in touch by telephone. A pain in his shoulder caused him to see a doctor. It was cancer. I spoke to him a few more times before Hurricane Irene. The storm made our phone service go down. BJ tried to call again, but was unable to get through. I didn't speak with BJ again. He passed away on September 6, a week after the storm. He was 61 and will be missed by many.
Thanks for the memories, BJ!