Since our latest tropical system passed recently, it gave me pause to think about all the others that have come before. The first for me was Hurricane Carol in 1954. My family lived at Quonset Point, Rhode Island, and my father, a meteorologist for the Navy Weather Service, was gone on a reconnoissance flight out over the Atlantic. The hurricane tore off the back porch of our house and as the eye of the storm brought calm, my mother took us to a safer haven at a neighbor's house. Even though I was very young, I remember it so well.
After consulting a climatology report on tropical cyclones affecting Cape Hatteras, I found over two dozen that have become memories in my life. Some like Gloria, Emily, Dennis, Isabel, Irene and Arthur had an impact. Others like Belle, Josephine, Gabrielle, Bob, Felix, Bonnie, and Hanna had lesser consequences.
Hurricane Hermine made landfall on the Gulf Coast of Florida and bore down on the Outer Banks as a tropical storm. Hatteras Island was right in it's path.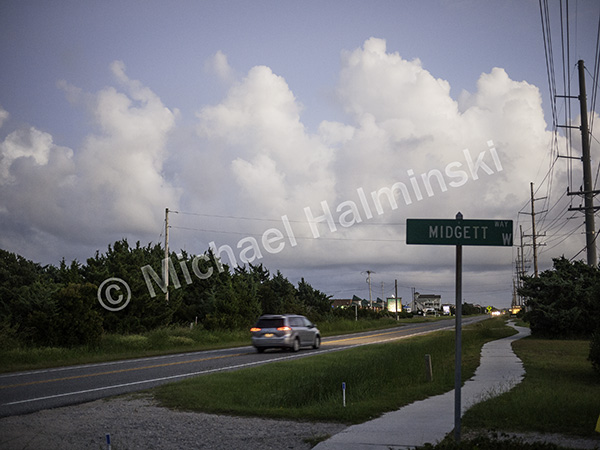 Tall cumulous clouds announced the storm's approach, and we took the available time to clean up the yard and secure items worth saving. I set up my barometer to gauge the power of Hermine, and went to bed that breezy evening. About 2 AM, I was awakened by an east wind and rain beating my house. At times it must have been gusting to 60 or more and I could hear what some call the sound of a freight train. My barometer was at 1004 millibars.
I went back to sleep and when I awoke at around 6:30, there was no wind or rain. It was a beautiful, sunny morning. Incredulous, I checked the barometer that read 992 millibars, the lowest of the storm. I knew then we were in the center of the action.
The only water on highway 12 was from about 6 inches of rain that Hermine brought. I saw people jogging by and I greeted one of them with a good morning. Her response clearly indicated that she thought the storm was over, but I knew we were in for a bit more on the backside.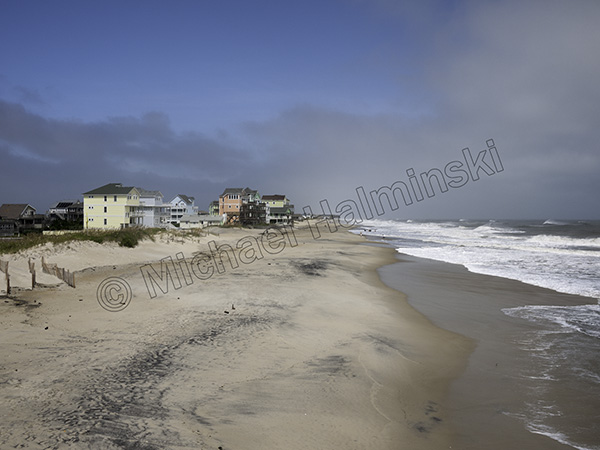 The beach north of the pier was nearly empty, and the blue sky overhead was surrounded by storm clouds. We were involved with the eye for over 4 hours. Then the wind switched and picked up from the opposite direction. We began hearing reports of storm surge flooding in Hatteras, Frisco, Buxton and Avon.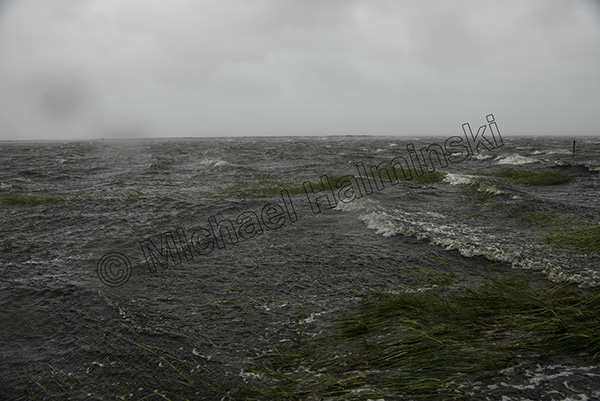 In the thick of it I decided to check the sound shore of my property. The marsh was white-capped and under water. In the northerly winds, I had a hard time standing up, shooting and getting back to the house.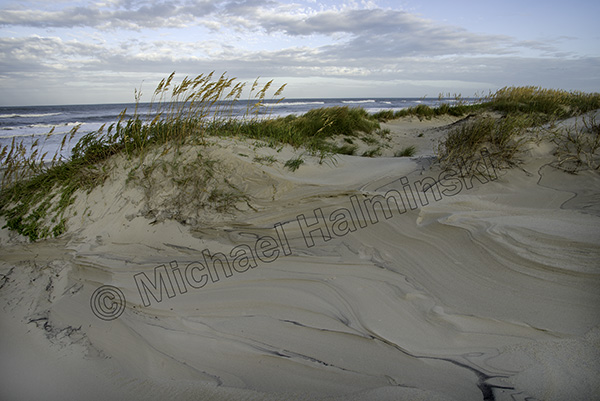 Next day, still under the influence of Hermine offshore, I photographed around a Pea Island dune that had shown the effects of the wind.
                                          A blow out through the dune made some interesting patterns both vertically and horizontally.
Like many other storms, Hermine brought some silver-lined photo-ops.