In 1985 there was a photographer visiting the Outer Banks named David Harvey. He was working on a story for National Geographic Magazine, a publication that for me was a great photographic inspiration.
One of the first stories circulating about him was concerning Hurricane Gloria bearing down on the coast. It was a category 5 storm with winds in the range of 150 miles an hour. After seeing nearly EVERYONE evacuating Hatteras Island, I decided to go myself. To this day, it's the only storm that ever made me leave the island.
Of course, David and writer Charlie Cobb decided that in the interest of journalism, they would ride it out, but that's another story. I must say that I was very impressed, and really wanted to meet him.
That day came, and we were both on a foggy beach at Cape Point. There was a commercial fishing crew with a haul seine rig, and I was in awe just looking at the photography equipment in his vehicle. At the time, I could barely afford the film and processing for my own work. He was kind enough to invite me along on his shooting for the rest of the day. We went to Hatteras Village where we saw some other commercial fishermen, including Outer Banks legend, Captain Ernal Foster.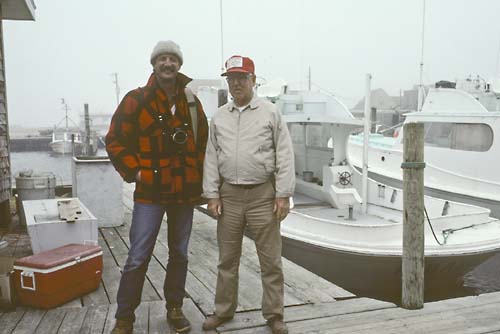 He must have "worked" on that assignment for 2 years off and on. I showed him some places that were special to me, and a few of those shots were published in the article that came out in the October 1987 issue. That made me feel good.
With his travels continuing around the globe shooting and teaching, he always comes back to the Outer Banks.