Since my early days on Hatteras Island, I've been drawn to remnants of the times past. Old wooden boats have been particularly fascinating. Some are still operating and some lay derelict or forgotten. One of my favorite designs is the shad boat.
They were first built in the 1870's on Roanoke Island by George Washington Creef. Designed for local sound waters and commercial fishing hauls, demand for shad boats increased. So other regional boat builders began constructing their own versions.
On June 15, 1987 the North Carolina General Assembly adopted the Shad Boat as the official State historical boat of North Carolina.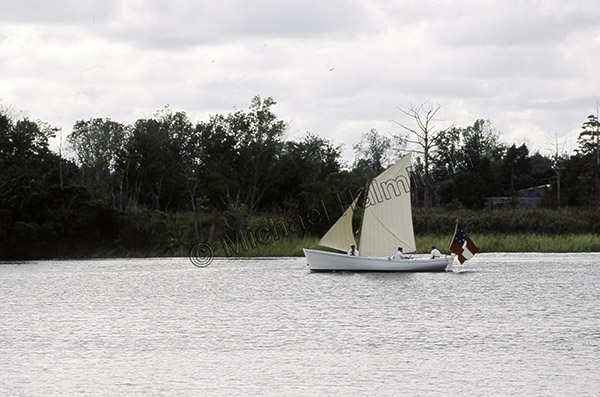 On a 1992 visit to Wilmington, I saw a newly built replica sailing down the Cape Fear River.
When I took this shot in 1980 at the Beasley fish house in Colington, surviving shad boats had long since had their sails replaced with motors.
One day the same year, I photographed the Beasley crew long-hauling Pamlico Sound at Rodanthe. They caught 10,000 pounds of fish, and bailed them by hand into a boat called Old Shad.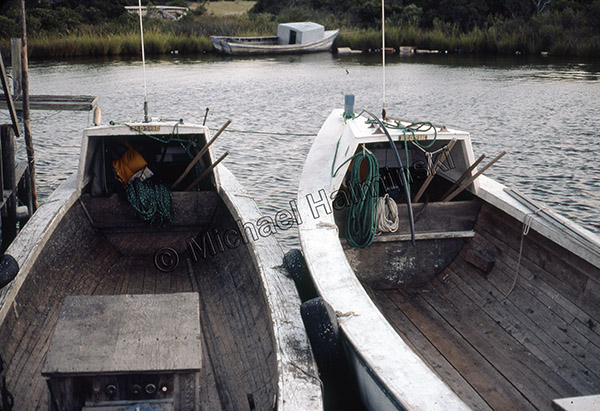 The Rodanthe harbor was Beasley's base of operations. That's OLD SHAD on the left with REDFIN rafted up next to it.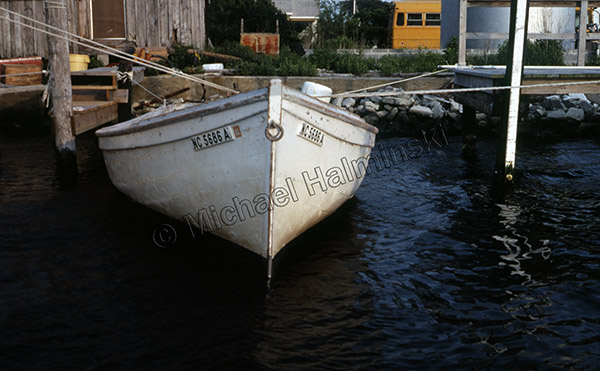 Hatterasman Michael Peele uses his shad boat for pound net fishing. I took this photo in 1982. To this day, he still uses it.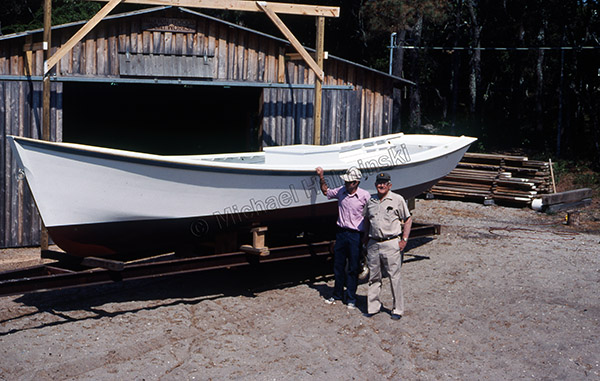 About the same time, I had a job at Mike Scott's Buxton Woods Boat Works where we restored Lee Peele's old workboat. More recently built, it had a hull with hard chines rather than the more traditional rounded bottom. It was beefed up with a durable West System epoxy treatment.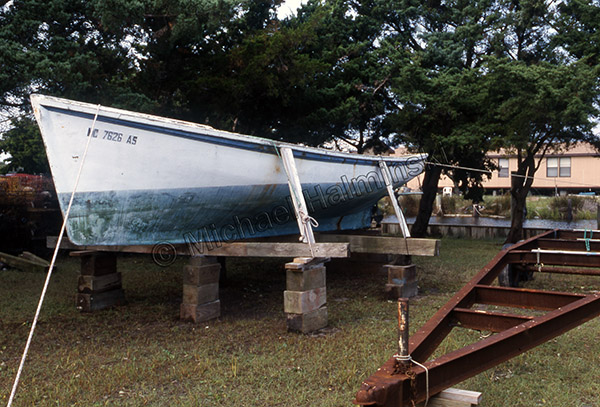 On the Outer Banks it's not unusual to see a boat in someone's yard. In 1999 while riding my bicycle around Ocracoke, I admired this beautiful boat blocked up for maintenance.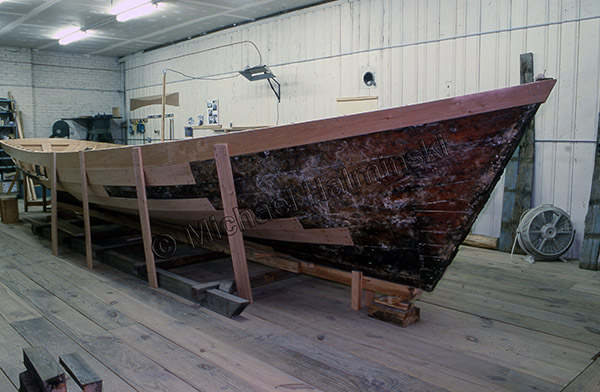 Spring of 2000, I shot an assignment for CoastWatch Magazine, concerning the Museum of the Albermarle's restoration of a 1904 Shad Boat. It was built by Alvirah Wright, a logger, decoy maker and boat builder from Camden County.
The restoration was extensive. All good wood was left intact, but most of the boat was replaced. Today the finished product sits in the lobby of the museum as a permanent exhibit. Before that, it had been in a Wright family relative's yard, rotting away.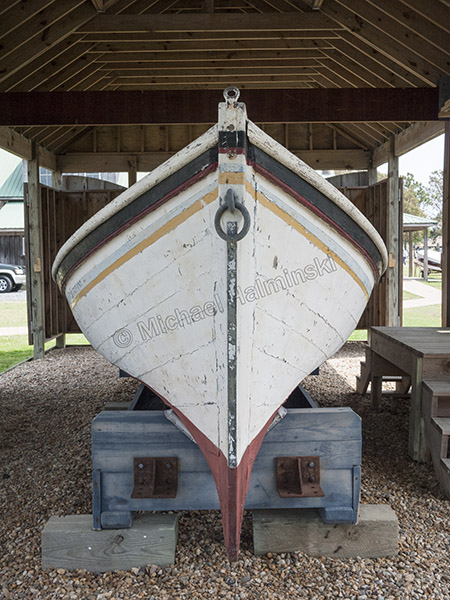 In 2002 the North Carolina Maritime Museum in Manteo had an 1883 George Washington Creef Shad Boat on display. It was used as a model to build a new boat with the same lines.
The new boat was built next to the 1883 boat.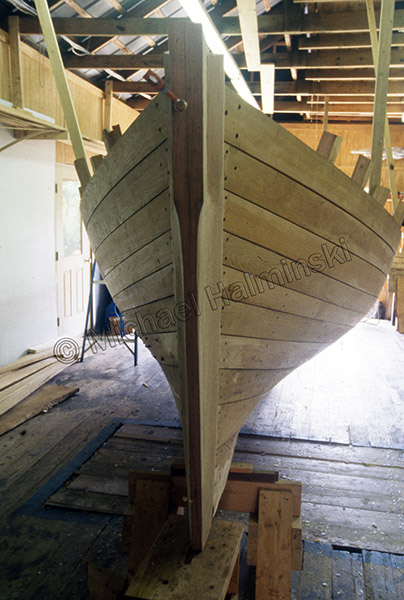 Fully planked, it was made with scarce, aromatic Atlantic White Cedar, commonly referred to as juniper.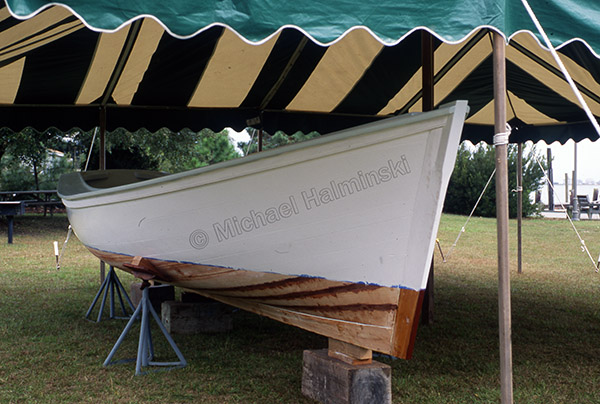 Just before it's christening, I saw the new boat all finished except for the bottom paint.
When I first met John Herbert, he was one of the Rodanthe old-timers. I knew him as a friend, a former duck hunter and the Keeper of Ole Buck. He was also a cook at Chicamacomico Coast Guard Station during the 1918 Mirlo Rescue. He told me how they used to have sail boat races on the Pamlico Sound and most of the time he won with his shad boat. It was a bit smaller and faster than most, and must have been a grand sight under sail. In 1985, I marveled at it, high and dry in the marsh at Rodanthe.