The storm that recently shut down highway 12 reminded me of the fragility of the place where I've lived most my life. The road was closed about 4 days until highway crews could clear  accummulated sand, allowing traffic to once again, exit or enter the island. Many do this cautiously, maneuvering through corrosive sea water. I've been watching and photographing this for years, over and over again.
When I first settled on Hatteras Island in the early 70's, it seemed idyllic. I loved combing the beaches and riding the waves. Gradually I began noticing the dynamic nature of a barrier island. I saw how wind and water combine to move sand, sometimes lots of it.
The blizzard of March 1980 brought a hundred mile an hour northeaster exploding with a foot of snow. My Rodanthe house at the time, was surrounded by sea water barreling through the dunes and raging down highway 12. Even to this day, I've never seen anything quite like it.
Later I was to experience more storms significantly impacting the island. A good example is just north of Rodanthe where the main road takes a few bends. That's where the pavement has been moved a number of times due to encroaching seas. A vegetated dune line helped protect the area, but not for long.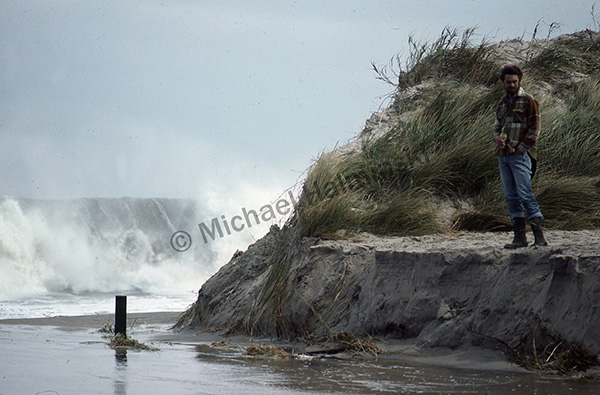 In 1984 Hurricane Josephine completely removed the dune line at the S-Turn. My surfing buddy Robin Gerald and I were in awe of nature's power.
The road there began closing more and more often.
One vehicle after another became trapped in slurries of sand and sea water.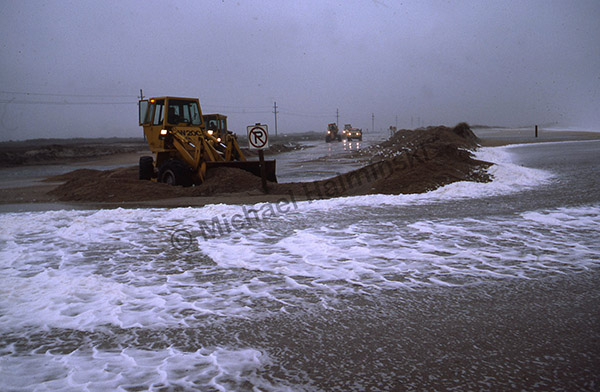 North Carolina Department of Transportation has tried in vain to keep traveling corridors open even in the harshest conditions.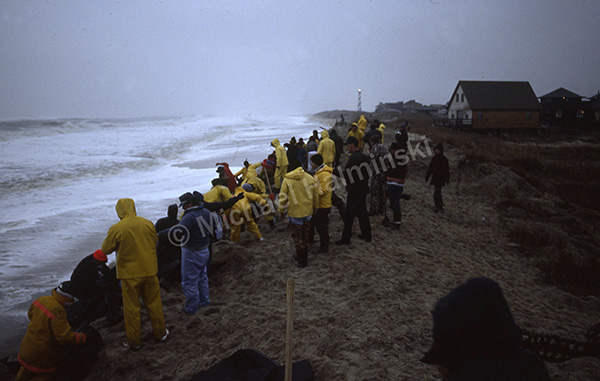 A storm in March of 1989 created a breach at the north end of Buxton as volunteers worked desperately to force the ocean back with sand bags. It didn't work well for long.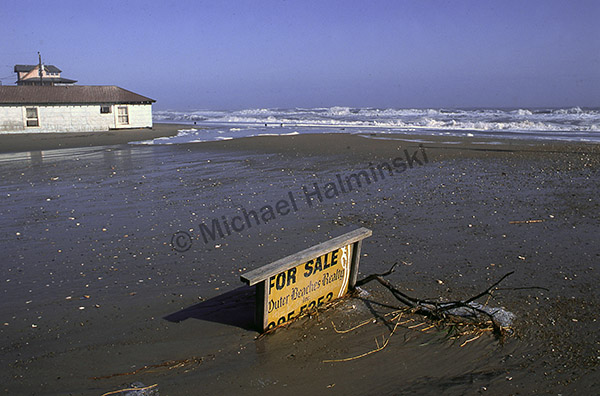 The Halloween Storm of 1991 was another hallmark. This lot in Rodanthe was as oceanfront as property can get. Any takers?
Spring of 1992 brought more woes for highway 12 on Pea Island and sandbagging was once again implemented as a short term solution.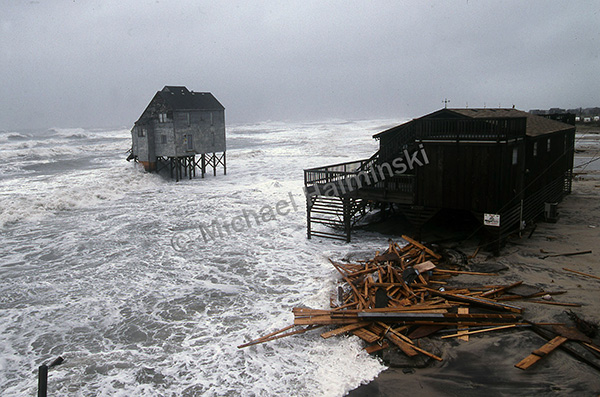 1999 was a banner year for destructive storms as Hurricane Dennis spun offshore for several days, resulting in a number of demolished homes on the oceanfront. Over the years, I've seen dozens of them succumb to the sea.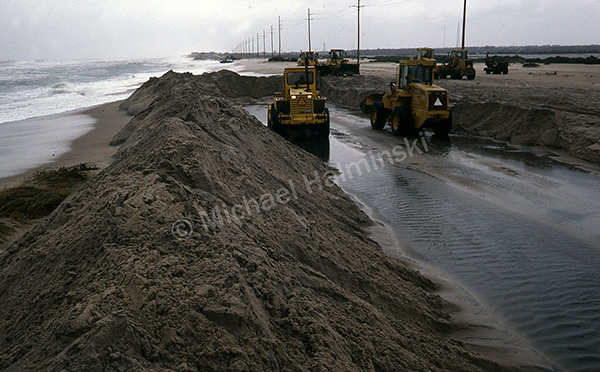 At the same time, a long stretch of road north of Buxton was completely taken out, pavement and all.
Dennis racked up additional casualties at the S-Turn.
Since that time, I've seen average water levels in the Pamlico Sound behind my home increase from knee deep then, to waist deep today. That doesn't bode well for attempts at controlling future onslaughts to the island.

Today the Rodanthe skyline consists of huge cranes building a multimillion dollar remedy to a problem that never seems to end.
Man is not master of this domain, but is more like a slave to it.